Train hauls UK exports to China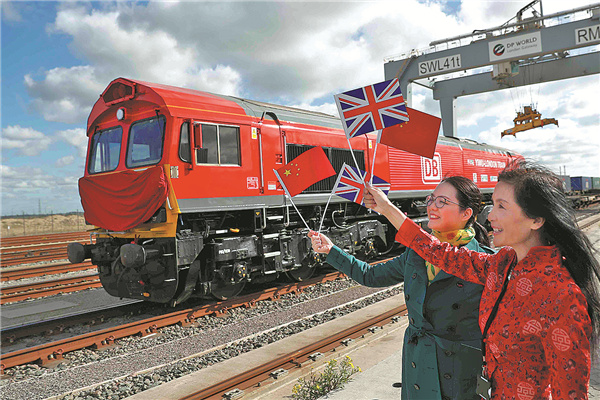 Well-wishers mark the departure of the first cargo train full of British exports being shipped directly to China, at the London Gateway terminal in Essex on Monday. Peter Nicholls / REUTERS
The first train full of British exports to travel directly from the United Kingdom to China departed from London on Monday morning. It is taking UK-made goods on a 12,000 kilometer journey to Yiwu, in East China's Zhejiang province. Soft drinks, vitamins, pharmaceuticals and baby products were loaded onto the train just east of the capital at the London Gateway terminal in Essex.
The train is on the return leg of the new Yiwu-to-London route. The first freight train from China arrived in the UK in January, packed with clothing and other small commodities.
The London terminal is operated by DP World, a trade services company with headquarters in Dubai. "When we started this project, we knew it was a game-changer in the supply chain," said Sultan Ahmed Bin Sulayem, CEO of DP World. "We move cargo by air and by sea, and now we move it by rail across continents."
He added that the new line between the UK and China was a key addition to President Xi Jinping's signature Belt and Road Initiative, which focuses on infrastructure development and trade.
"DP World has been an active supporter of Belt and Road, and now London Gateway is on the Silk Road route," he said. The train will take 18 days to reach Yiwu. It will pass through seven countries between the UK and China, and will need to accommodate three changes in the width of track by replacing the undercarriages of the rolling stock to fit the track.
After passing through the Channel Tunnel into France, the locomotive will traverse Belgium, Germany, Poland, Belarus, Russia and Kazakhstan before crossing into China.
Container operator OneTwoThree Logistics is overseeing the transportation and booking of the cargo train, in conjunction with Yiwu Timex Industrial Investments Co, which is running the service with China Railway Container.
Greg Hands, British minister of state in the Department for International Trade, said the new line shows the global demand for UK goods.
"This new rail link with China is another boost for global Britain, following the ancient Silk Road trade route to carry British products around the world," he said.
The train is returning to Yiwu three months after arriving in the UK. Robert Soames, business ambassador to Britain's prime minister in the construction and infrastructure sector, said he expects a weekly or daily service will be established within the next decade.
"The train is a fantastic alternative to air and sea freight, as air is more expensive and sea takes longer," Soames said.