New passenger train route connects China, Kazakhstan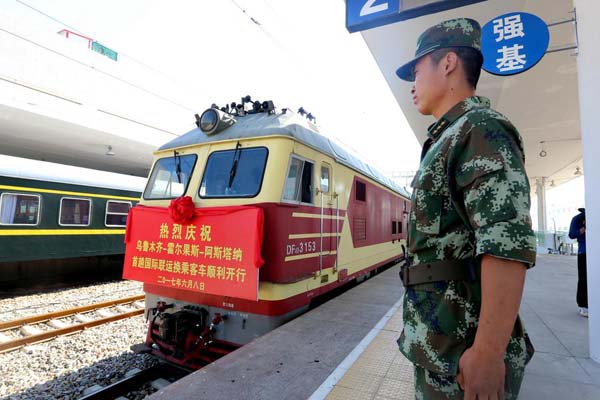 A 198-seat train numbered 9001 left Horgos, a border port in Xinjiang Uygur autonomous region in northwest China, for Astana, capital of Kazakhstan on Thursday morning.  [Photo/Xinhua]
HORGOS, Xinjiang - A new passenger train route was launched on Thursday connecting China and Kazakhstan, the second between the two countries.

A 198-seat train numbered 9001 left Horgos, a border port in Xinjiang Uygur autonomous region in northwest China, on Thursday morning.

Departing from the regional capital Urumqi, the train number will change to 701 after entering Kazakhstan, where it will operate via a local train.

The train's destination is Astana, capital of Kazakhstan, via stations in Almaty, Sary Shagan and Karaganda.

It is the second passenger train route following one that travels via the Alataw Pass in Xinjiang.

The new route will reduce travel time between Urumqi and Almaty by eight hours, compared with the first route via the Alataw Pass, said Ma Yinong, chief of the Horgos Railway Station.

Located about 670 km from Urumqi and 370 km from Almaty, Horgos was once a busy passage used by traders traveling along the ancient Silk Road. The Belt and Road Initiative, proposed by China in 2013, has injected new vitality into the land port.

The port saw border trade of more than 17 billion yuan (2.5 billion US dollars), and 16,000 visitors from Central Asian countries in the first quarter of this year, according to Wang Gang, Communist Party chief of Horgos city.