China and Afghanistan should deepen Belt and Road cooperation, Xi says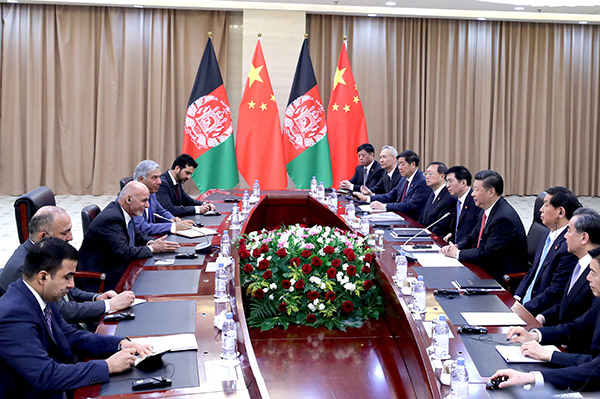 President Xi Jinping holds talks with his Afghan counterpart Ashraf Ghani in Astana, Kazakhstan on June 8, 2017. [Photo/Xinhua] 
China and Afghanistan should deepen cooperation under the Belt and Road framework and push forward the projects to boost interconnectivity, President Xi Jinping said on Thursday.
Xi made the remarks while holding bilateral talks with his Afghan counterpart Ashraf Ghani in Astana, Kazakhstan during the annual summit of the Shanghai Cooperation Organization.
Hailing the good momentum of bilateral ties, Xi said that high-level interaction should play an important role in guiding China-Afghanistan relations and exchanges on all levels should be intensified.
China supports the Afghan government's efforts to maintain its domestic security, Xi said, adding that China will continue to help Afghanistan's reconstruction. The two countries should enhance anti-terrorism and security cooperation, he said.
Xi pointed out that China firmly adheres to the friendly policy toward Afghanistan. China would like to play a constructive role to support Afghanistan in conducting peaceful reconstruction and advancing reconciliation, he said.
Ghani expressed gratitude toward China's support to his country's peaceful rebuilding and reconciliation process, saying that Afghanistan cherishes its friendship with China.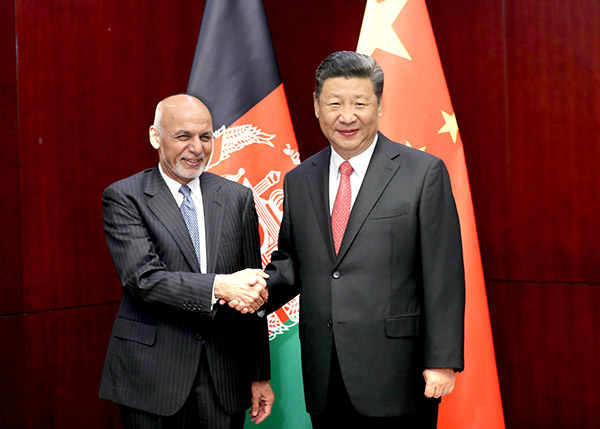 President Xi Jinping poses for photos with his Afghan counterpart Ashraf Ghani in Astana, Kazakhstan on June 8, 2017. [Photo/Xinhua]
The Afghan president said his country values China's important role in international and regional affairs, and is dedicated to cooperation with China in such areas as economic, trade and security.
Afghanistan is looking forward to connecting the country's development with the Belt and Road construction, he said, adding the country will proactively participate in cooperation with China to boost interconnectivity.
Chen Yurong, a senior researcher in European and Asian studies at the China Institute of International Studies, said that China has been dedicated to promoting the reconciliation process in Afghanistan by making use of the multilateral mechanism in the past years.
Afghanistan is located in the corridor that links the Central Asia with the South Asia, and the geographic location has provides huge potential for the two countries to cooperate on Belt and Road, Chen said.
Sun Zhuangzhi, secretary-general of the SCO Research Center under the Chinese Academy of Social Sciences, said that China and Afghanistan can strengthen cooperation on infrastructure construction under the Belt and Road framework.
Infrastructure in Afghanistan has collapsed under years of conflict, he said, adding that China can help Afghanistan to rebuild the railway, highways and hydraulic engineering,and cooperate in mining, agriculture and investment.