New energy anticipated following president's trip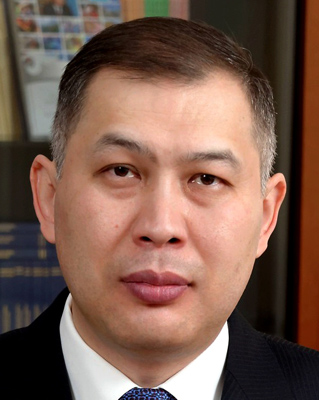 Shakhrat Nuryshev, Kazakh ambassador to China
Ambassador expects cooperation will expand further on Belt, Road
President Xi Jinping's state visit to Kazakhstan will inject new energy in the further development of Sino-Kazakh relations, a diplomat from the Central Asian country said.
Shakhrat Nuryshev, the Kazakh ambassador to China, said Xi will meet with Kazakh President Nursultan Nazarbayev and exchange opinions over issues under bilateral and multilateral cooperation.
"The two leaders will discuss further cooperation in the fields of trade, cross-border transportation, energy, investment, production capacity, innovation, technology and culture," the ambassador said.
He said China and Kazakhstan have close political links, as the two countries are a permanent member and a nonpermanent member of the United Nations Security Council, and China is now taking up the presidency of the Conference on Interaction and Confidence-Building Measures in Asia, which was initiated by Kazakhstan.
"China will also take over the presidency of the Shanghai Cooperation Organization after the coming summit in Astana," he said, adding that the agreements signed during the summit will enhance relations between the two countries, as well.
In an exclusive interview with China Daily, Nuryshev said China is one of the most important neighbors to have established a pragmatic and constructive dialogue since Kazakhstan gained independence in 1991.
The two countries celebrated the 25th anniversary of diplomatic relations on Jan 3, and both leaders agreed that relations between China and Kazakhstan have reached their highest level ever, and the bilateral cooperation acts as a model to show-case, Nuryshev said.
Nuryshev said Kazakhstan can play a key role in the Belt and Road Initiative, which was proposed by China, as it has an important strategic Eurasian geographic location. Further, its vast territory makes the country a key bridge between Europe and Asia.
He said the cooperation continues to expand and bilateral trade increased this year while cultural cooperation is actively expanding.
The Astana World Expo 2017 in the Kazakh capital opens on Saturday, and over 500 Chinese enterprises from over 24 provinces, autonomous regions or provincial level cities are expected to participate, according to the China Council for the Promotion of International Trade.
The Kazakh expo organizers declared this past Monday as China National Pavilion Day. The China pavilion hosted various activities, such as a forum about China-Kazakh energy and tourism cooperation, an exhibition of Terracotta Warriors and many other cultural and commercial events.
Nuryshev said the Expo organization, along with the Kazakhstan Embassy to China and Chinese authorities have worked together to ensure the participating Chinese governments and companies have no problems.
"I hope by hosting the Astana World Expo 2017, Kazakhstan can become better understood by different regions in China, and then can establish direct contact with each other," Nuryshev said. "And by introducing the green technology from China and having more tourists, the comprehensive strategic part-ner relationship of China and Kazakhstan will continue strengthening."