Xi: Differences will be handled constructively
By An Baijie in PalmBeach, Florida and Li Xiaokun in Beijing | China Daily | Updated: 2017-04-08 07:38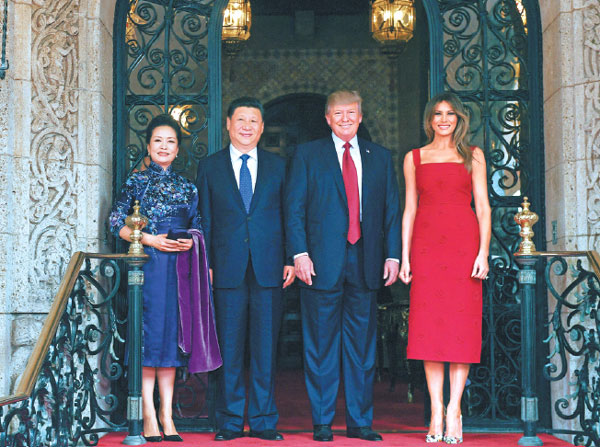 President Xi Jinping and his wife, Peng Liyuan, join US President Donald Trump and his wife, Melania, at the Mar-a-Lago resort in Palm Beach, Florida, on Thursday. [Photo by Rao Aimin/Xinhua]
President affirms that a greater sense of achievement will mark China-US ties
President Xi Jinping said that China and the United States "will take constructive ways to handle differences and sensitive issues to make people of the two nations have more sense of achievement in the development of China-US ties".
Xi made the remark on Thursday when he and his wife, Peng Liyuan, attended a banquet that US President Donald Trump and his wife Melania Trump hosted at the Mar-a-Lago resort in Palm Beach, Florida.
Xi and Peng thanked the Trumps for their warm welcome. Both presidents said in speeches that they had good conversations during the day.
Xi said he and Trump "reached important consensus on development of China-US relations", according to a news release issued by the Foreign Ministry.
The two countries are willing to expand practical cooperation in many fields, including trade and investment, diplomacy and security, legal enforcement networks, and people-to-people exchanges on the basis of mutual respect and benefits, Xi said.
"There is a Chinese saying that every towering building is built from the ground," he said, adding he expects to work with Trump to lead those who are passionate about developing China-US ties to "build the mansion of China-US relations story by story and make it firmer, higher and prettier".
Trump said China's excellent achievements under Xi's leadership have won respect from around the world, according to the Foreign Ministry release.
It quoted Trump as saying that he had a good conversation with Xi at their first meeting. They exchanged views on a broad range of issues and established a friendship, it said.
Trump said he expected to carry out cooperation with Xi and continue in depth talks on the next day.
The two presidents also talked about international and regional issues during the dinner.
High-ranking officials accompanying Xi at the banquet included Director of the Policy Research Office of the CPC Central Committee Wang Huning, Vice-Premier Wang Yang, Director of the General Office of the CPC Central Committee Li Zhanshu, State Councilor Yang Jiechi and Chief of the Joint Staff Department of China's Central Military Commission Fang Fenghui.
US officials at the dinner included US Secretary of State Rex Tillerson and his wife, a number of other US Cabinet members and high-ranking White House officials.