Finnish composer's influence noted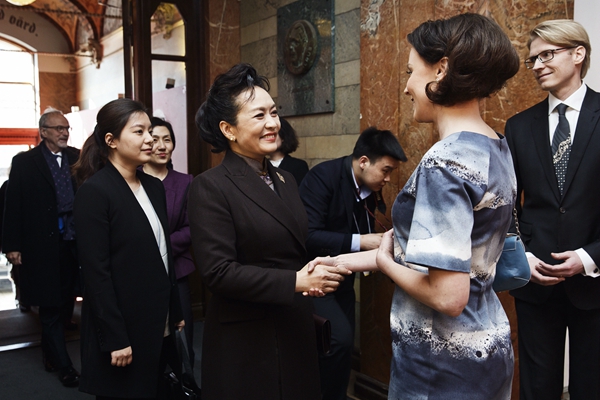 Peng Liyuan, wife of President Xi Jinping, speaks with Jenni Haukio, wife of Finnish President Sauli Niinisto, at the Finnish Design Museum in Helsinki on Wednesday.[VESA MOILANEN/ASSOCIATED PRESS]
Jean Sibelius, a renowned Finnish composer and violinist of the late Romantic and early modern period, was honored by President Xi Jinping and his wife, Peng Liyuan, during their visit to the Nordic country.
Sibelius, born in 1865, had a great love for his homeland, and that comes out in his music, which has an influence worldwide.
When Sibelius died in 1957, the United Nations General Assembly was in session and the then GA President Sir Leslie Munro of New Zealand ordered a moment of silence, saying, "The music of Sibelius belonged to the whole world".
Xi, in a signed article published in the Finnish newspaper Helsinki Times on Monday ahead of his state visit from Tuesday to Thursday, noted that "this country is home to the great composer Jean Sibelius".
Wednesday morning, Peng visited the Sibelius Museum, the composer's residence, with Jenni Haukio, the wife of Finnish President Sauli Niinisto. They viewed the exhibits and artworks, accompanied by the museum's curator.
As they toured, a Finnish pianist played a classic Sibelius work for Peng, who is a widely acclaimed soprano in China.
Peng noted that Sibelius' works "are a symbol of the spirit of the Finnish nation" and are beloved by the Chinese people.
As both countries have a lengthy history and culture, they share a solid foundation and huge potential for cultural and people-to-people exchanges and cooperation, Peng said.
On Wednesday afternoon, Peng visited the Finnish Design Museum and toured an exhibition about stories behind the Finnish designs and the outstanding works of Finnish designers.
Built in 1873, the museum is home to collections of renowned Finnish industrial, costume and graphic designs.
Designs are an important part of cultural exchanges, and there is great potential for both nations to further explore new chances for cooperation, Peng said.