Iowa farm a model Xi wants emulated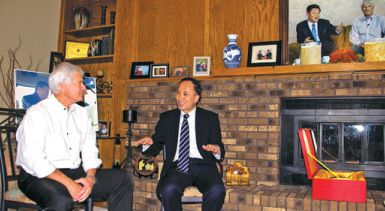 Zhao Zhenge, a Chinese trade official based in Washington, and Iowa farmer Rick Kimberly exchange ideas on agriculture recently at Kimberly's home. [Photo by May Zhou/China Daily]
Rick Kimberly, an Iowa farmer of 4,000 acres about 20 miles outside of the state capital of Des Moines, has become a celebrity of sorts, thanks to a visit to his homestead by then vice-president Xi Jinping in February 2012.
In his modest one-story farmhouse, Kimberly welcomed a few Chinese guests on March 28, apologizing for the absence of his wife, Martha, due to a work engagement.
The guests were immediately drawn to an oil painting prominently displayed on a fireplace mantel in the living room. The painting depicts the meeting of Xi and Kimberly in the room five years ago.
"I was given this as a gift when I visited Beijing a couple of years ago," Kimberly said.
The Chinese guests were part of a small business delegation led by Zhao Zhenge, US general representative of the China Council for the Promotion of International Trade. They were in Iowa looking for investment opportunities.
Below the painting is a large ceramic vase with a Chinese inscription-a gift from Xi. Kimberly picked up the vase to show his guests.
The visit by Xi five years ago was widely reported by major US media, including The Wall Street Journal and The New York Times, as well as Chinese media. It linked the Kimberly Farm to China in a way its owner never imagined. He put some of the news reports into an album for guests to browse.
"When President Xi came and talked to us, he's very knowledgeable about agriculture. He thinks highly of people that live on the farm. He wants to help them to have a better life," Kimberly recalled to his guests.
"He mentioned that he wanted to use our farm as a model for farmers in China. We are happy to help in any way we can," Kimberly said.
Xi's wish is becoming reality. Kimberly has signed agreements with Chengde, Hebei province, and Lishu, Jilin province, to build two modern model farms based on his farm, and is negotiating a third.
"Two weeks ago, we had the development company from China visit here. They measured everything, even diagramed my house. From what I understand, they will make the model farm a place to have exhibits and conferences related to agricultural equipment and techniques," Kimberly said.
Kimberly Farm gets a lot of visitors and Kimberly appears to be prepared for it.
He doesn't keep a log of visitors, but estimates that hundreds of Chinese people have visited his farm annually since Xi's visit. More have visited this year, after Iowa Governor Terry Branstad was nominated by US President Donald Trump as ambassador to China and due to the upcoming model-farm projects in China.
Some visitors are Chinese students from universities and high schools in the state, Kimberly said.
He and his wife made trips to China after Xi's visit. They are scheduled for their seventh visit in June after finishing crop planting.
Kimberly has a passion for farming. He discussed with Zhao farming details, the challenges for China's young people to stay on a farm and what US farming experience can be used by China.
Kimberly showed his guests the giant grain bins and computerized farming equipment he uses. And he especially pointed out the green John Deere tractor that Xi had climbed on during his visit.
Of Xi's meeting this week with Trump, Kimberly said: "It will be a great meeting. I think it's something needed for the leaders of the two most important countries of the world."