Xi set to champion globalization and free trade during visit
President Xi Jinping is likely to send a strong message that further supports globalization and free trade during his visit to Finland, a senior Finnish scholar has predicted.
"I think President Xi has a global signal to send, and it is that both Finland and China are supportive of the current international order and globalization," said Julie Yu-Wen Chen, a professor of Chinese Studies and director of the Confucius Institute at the University of Helsinki.
Amid rising nationalism, populism and isolationism around the world, Chen said Xi's visit to Finland will not only boost the Sino-Finnish relationship but encourage cooperation between China and the wider Nordic region.
Xi delivered the keynote speech at the annual meeting of the World Economic Forum in Davos, Switzerland, in January and stressed at the time that China would further boost globalization.
"As you may know, in certain countries, some kind of isolationist or inward-looking behavior has emerged strongly," said Chen. "So, I think cooperation between China and Finland would send a very strong joint signal to leaders in other parts of the world that we should continue to take responsibility to have sound global governance and to make sure that our world can be sustainable and harmonious."
Chen said China's Belt and Road Initiative and the establishment of the Asian Infrastructure Investment Bank, two global initiatives led by China, have attracted tremendous interest in Finland.
"The professors and professionals in this country have been enthusiastic in enriching the contents of these global proposals," said Chen.
She said Finland and China have always had a very good relationship because Finnish people are very practical and have welcomed economic, cultural and political exchanges.
Chen said Xi's visit will boost confidence among the Finnish people to deepen exchanges with China, and the promotion of innovation and technology exchanges should become a priority.
"My understanding is China wants to become a great power in innovation and science and Finland has a lot to offer, or at least to share their experiences with the Chinese side," said Chen.
Chen said she has been promoting Finnish educational experiences among Chinese government officials and educators.
She sees Xi's visit as signaling that China attaches great importance to the Nordic region, which is key player in the European Union.
"I am sure this visit will be of great importance to deepen cooperation between China and Nordic countries as well," said Chen, who noted that countries in the region have shared and coordinated positions in many areas, in terms of China policy.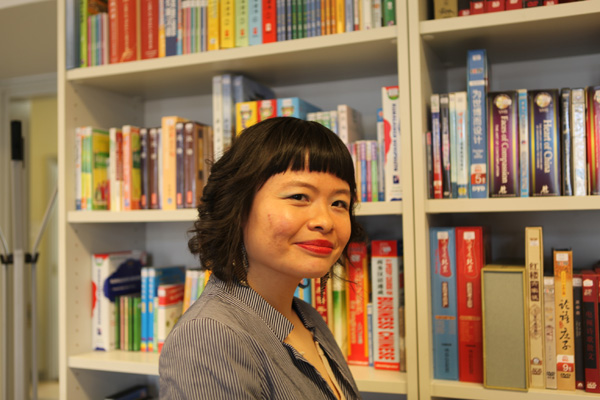 Julie Yu-Wen Chen, a professor of Chinese Studies and director of the Confucius Institute at the University of Helsinki. [Photo by Fu Jing/chinadaily.com.cn]
Zheng Jinqiang in Brussels contributed to this story.