Made in USA is hypocritical political correctness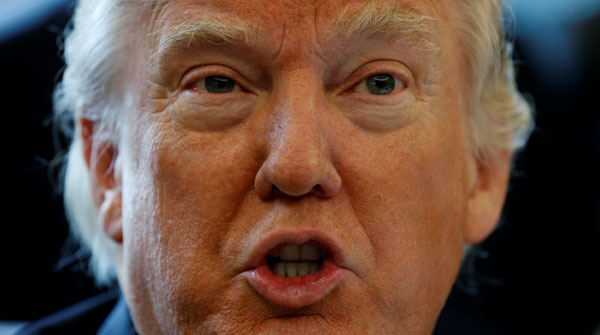 US President Donald Trump speaks while signing executive orders at the White House in Washington January 24, 2017. [Photo/Agencies]
US President Donald Trump won the 2016 election partly by cashing in on people's anger over excessive political correctness. Yet his words and deeds are cultivating a new political correctness in his country.
It is about keeping manufacturing jobs in the United States and bringing them back from overseas, as he said in his inaugural address that his rules are "buy American and hire American."
Walmart, the largest US company, has been running a TV ad about its commitment to purchasing $250 billion in the US and create 1 million jobs at home.
It is nothing new for US businesses to promote themselves by tapping into the public's patriotism, but more of the mare under pressure now to do so after Trump threatened to punish those outsourcing their jobs abroad.
Under such pressure, Carrier decided in late November to keep several hundreds of jobs in its Indiana plant instead of moving them to Mexico as previously planned. Last month, Ford Motors cancelled its $1.6 billion plant in Mexico and said it would instead invest $700 million in an existing plant in Michigan to make electric and autonomous cars.
Trump also warned General Motors last month by tweeting "General Motors is sending Mexican made model of Chevy Cruze to US car dealers-tax free across border. Make in U.S.A. or pay big border tax!"
He has pressured Apple CEO Tim Cook to make iPhones in the US, instead of China, where the devices are assembled by a massive army of Chinese workers.
Such a bid to bring manufacturing jobs back to the US may sound great to some voters. But it is against the free market principle, does not make any economic sense and won't help US consumers.
The Walmart commercial features a factory scene where workers are hammering and welding, with sparks flying like fireworks. It does not look remotely like a factory with state-of-the-art facility or high automation, which should be the case for an advanced economy.
Walmart's campaign has already been called into question when some products with "Made in America" labels are accused of not meeting the government criteria, as many parts are made abroad.
In a globalized world, it is increasingly hard to find a product, especially a high-tech one, that is made totally by one country. Apple's iPhones are assembled in China but really designed in California. Its parts come from more than 700 suppliers from all over the world, and the assembly cost is less than $10, not big value.
US consumers, however, will have to pay $30-40 more if they want an iPhone assembled in the US and $100 more if more of the components are made in the US.
The Made-in-the-USA mania now seen in the US is not only against the basic economic law of comparative advantage, it is also going to hurt the most vulnerable US consumers and turn the US into a "Third World" economy.
In fact, the factory scene depicted in the Walmart ad is probably hard to find now in China's developed coastal region. Those factories have long been relocated to the low-cost hinterland of West China or else to other countries which have lower labor costs.
As a shrewd businessman, Trump should know all this well. The United Kingdom's Daily Mirror reported last week that Trump International Hotel, opened in Washington last October, contains rooms where almost everything in them was made outside the US.
It is sad to see such hypocritical political correctness of Made in USA permeating the world's most advanced nation in the 21st century.
The author is deputy editor of China Daily USA. chenweihua@chinadailyusa.com