Chinese premier calls for better relations with Germany via upcoming visit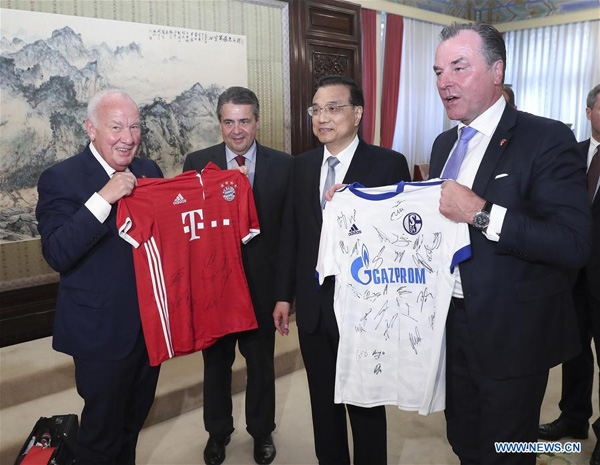 Chinese Premier Li Keqiang receives gifts of football jerseys while meeting with German Vice Chancellor and Foreign Minister Sigmar Gabriel, who is in Beijing to attend the first meeting of the China-Germany people-to-people exchange dialogue, in Beijing, capital of China, May 24, 2017. [Photo/Xinhua]
Li called on China and Germany to treat each other equally, respect each other's core interests and major concerns, properly solve differences and forge ahead bilateral ties so as to benefit the two peoples.
Gabriel, who is in Beijing to attend the first meeting of the China-Germany people-to-people exchange dialogue, said a stable bilateral relationship is worth cherishing.
This year marks an important year in the history of bilateral ties with frequent high-level exchanges between the leaders of both countries, providing a good opportunity to enhance cooperation, he said.
The successful first meeting of the people-to-people exchange dialogue Wednesday morning opened a new chapter of bilateral exchanges and cooperation, he said.
Germany looks forward to Li's visit, said the vice chancellor, adding that the country is willing to deepen cooperation with China in various fields and is committed to building a multipolar world of free trade.