UK's Rowan Atkinson reprises Mr Bean character for China film
British comedian Rowan Atkinson is reprising his highly successful comic character Mr Bean for a movie being shown exclusively in China.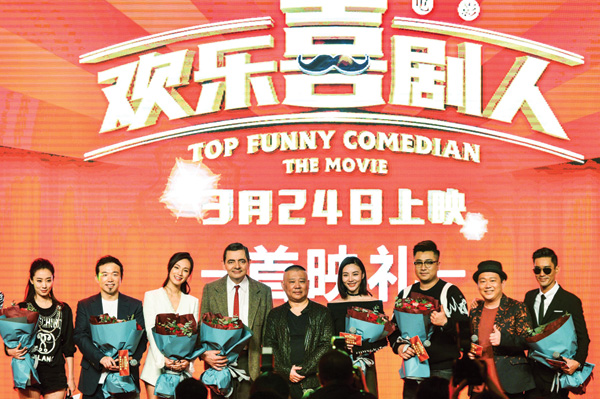 Bean is back on film, along with this cast.
Atkinson, 62, retired his rubber-faced character, who rarely speaks on film, several years ago, after 15 well-received episodes made for British television.
The China-only film is Top Funny Comedian: The Movie, in which Mr Bean -known as Foolish Mr Bean in China-goes on vacation to China and attempts to photograph statues with his iPhone.
It is on general release in China from today.
Mr Bean is essentially a loner who lives in a flat with a small brown teddy bear as his constant companion. One of the series' major components was the ongoing troubles Mr Bean faced with his old yellow Mini car.
Mr Bean's Holiday, a movie starring mainly Atkinson, grossed 2.4 million pounds ($3 million) in China alone in 2007, when it was released.
Movie critics said Mr Bean appeals to audiences that do not speak English because the action is largely mime and consists of traditional comedy, such as pratfalls and embarrassing incidents that need no words.
The main plot of the new movie involves Chinese comedians Yue Yunpeng and Guo Degang. Guo said in an interview that, because Atkinson doesn't speak Mandarin, they communicated on set through body language.
"We communicated just with facial expressions and gestures. We seemed to understand each other. It was a really interesting experience, which proves that comedy can cross boundaries," Guo said.
The plot of the film revolves around four men and a girl who go to Macau on a gambling trip and end up in all sorts of trouble involving mime, comedy and plenty of slapstick.