Relationship between two countries is going from 'strength to strength'
It is surprising to think that ambassadorial relations between the United Kingdom and the People's Republic of China have been in place for just 45 years.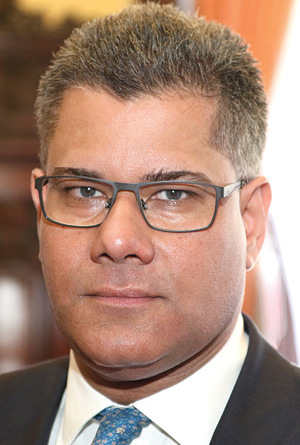 Alok Sharma, UK Minister for Asia and the Pacific 
Today, on the 45th anniversary, we see cooperation at an all-time high and a bilateral relationship going from strength to strength. The global partnership established during President Xi Jinping's successful visit to the UK in 2015 is delivering real benefits for both nations. Prime Minister Theresa May made clear its ongoing importance during her visit to Hangzhou at last September's G20 Summit hosted by President Xi. And I have seen the impact firsthand in my recent visits to Beijing, Guangzhou, Shenzhen, Fuzhou and Xiamen.
Throughout those 45 years, the UK-China relationship has steadily strengthened. Personal ties and mutual understanding are at the heart of any successful relationship, and the UK has more dialogues with China than any other European country. Our established annual high-level dialogues on finance, international strategy and cultural links all demonstrate the breadth and depth of this relationship.
Prime Minister May will visit China again later this year and looks forward to taking part in wide-ranging discussions with both President Xi and Premier Li Keqiang during that visit.
Today, more people travel between China and the UK than ever before. Chinese visitors to Britain have doubled in five years, with around 150,000 Chinese students now studying across the UK. We want to be the most inspirational and welcoming European destination for Chinese visitors, so we have enhanced visa options and expanded visa application centers-one of which I was pleased to open on my most recent visit to China last month.
During that visit, I led a business delegation showcasing world-class UK expertise in fields that will support China's continuing economic development. In the past 45 years, bilateral trade between the UK and China has increased 200-fold. The UK is now one of the top destinations for Chinese investment and China is the UK's largest export market outside Europe and North America. As Prime Minister May has made clear, the world is built on the foundations of free trade, partnership and globalization, and I warmly welcome President Xi's commitment to free trade and market access during his speech in Davos earlier this year. As we prepare to leave the European Union, the UK will build a truly global Britain that is open for business, and brings with it new and exciting opportunities for our partnership with China. We will work to enhance our discussions on free trade and work together to expand trade and investment links.
We also look to China to use its position of global influence to champion the rules based international system. We must work together to ensure nations play by the same rules-that is fundamental for global security and prosperity.
The UK has worked closely with China to strengthen our financial and economic links, including issuing the first RMB sovereign bond outside China and enhancing London's position as a hub of Chinese financial activity. Our joint leadership through the G20 on green finance has led to new and sustainable growth in the global financial system. We expect this positive work to develop even further.
I was delighted the UK was the first G7 nation to ratify membership of the Asian Infrastructure Investment Bank. Joining at the founding stage will create an unrivalled opportunity for the UK and Asia to invest and grow together. It will support access to finance for infrastructure projects across Asia.
China's development of its Belt and Road Initiative, which will create new trade routes with Europe, will also present new opportunities for UK and Chinese business to work together to drive economic growth. It further demonstrates China's growing international outlook.
Security cooperation is another important aspect of our Global Partnership. As permanent members of the UN Security Council, it is in our collective interests to work together to tackle today's global challenges. We have regular exchanges on issues including the situation in South Sudan, the importance of implementing UN Security Council resolutions on North Korea, and dealing with foreign terrorist fighters. We are working together to support stability in Afghanistan and tackling the threat from international terrorism, which affects us all.
Our cooperation on climate change and energy has been crucial, and we are working hand-in-hand on healthcare, learning from each other to tackle global issues like anti-microbial resistance. It is because of our strong and mature relationship, we are able to have an open and constructive discussion on all of these issues, as well as areas where we do not always agree.
The pace and scope of what we have achieved is extraordinary, but it is not just about the past. We have a great deal to look forward to, including planning for the visit to China by Prime Minister May later this year. That will be an excellent opportunity to reinforce our shared commitment to even greater cooperation between the UK and China.