Word spreads about value of mastering Mandarin
It is Wednesday evening and Sarah Evans's friends are enjoying a drink at a pub but the 25-year-old, who works for a hedge fund company in the City of London, does not join them because she is at her weekly Mandarin class.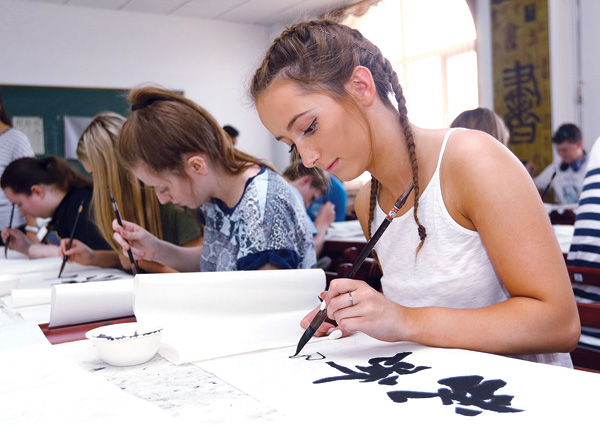 Scottish students write in Chinese.
"I think to be able to speak Mandarin fluently is very important to me as it can undoubtedly give me an edge at my job," said Evans, who is already able to make good conversation in Chinese.
Her story is one example of the growing interest in Britain in learning Mandarin. As relations between China and the United Kingdom have improved during the last 45 years, learning Mandarin has become increasingly popular.
According to the British Council, the number of people taking Mandarin exams at the General Certificate of Secondary Education level increased by 92 percent in five years, to 4,044 students in 2016.
Wang Yongli, minister counselor for education at the Chinese embassy in London, said Mandarin was of little interest to British people 45 years ago, but the expansion of the Confucius Institutes and the smaller Confucius Classrooms, with support from local governments and universities, has played an important role in the rise in popularity.
"To date, there are 29 Confucius Institutes and 135 Confucius Classrooms in the UK," Wang said.
His view was echoed by the UK's Minister of State for School Standards Nick Gibb, who believes that a high level of fluency in Mandarin will become increasingly important in the competitive global economy.
"As part of our drive to extend opportunity, we want to give young people the opportunity to study the language and to acquire fluency in both spoken and written Mandarin," Gibb said.
The British government launched its 10 million pound($12.96 million) Mandarin Excellence Program last September, which is designed to make teenagers fluent by 2020.
In 2013, the British Council introduced its Generation UK campaign, which aims to increase the number of British students and interns with placements in China to 80,000 by 2020.
Carma Elliot, director of the British Council in China, said there are now some 7,500 young British people gaining experience in China. This number has grown by around 40 percent in the last three years.
British students' ambition to excel in Mandarin follows strong interest among Chinese students to learn English, which began in the late 1970s. As a result, China now boasts the largest English-learning population in the world, with an estimated 200 million students. In China, most students take their first English lesson during the first or third year of primary school.
Li Qing, an English professor at Zhejiang Gongshang University, said: "China began the reform and opening-up policy in 1978, when the nation became aware it was lagging behind many other countries, especially those English-speaking developed ones, The young generation consciously shouldered the responsibility to rebuild the shabby country and urged themselves to learn from other developed countries."
Li said English is important for China's international relations, and is beneficial to China's academic advances.
While there has been a surge in the number of Britons learning Mandarin, the number of Chinese students studying at British universities has also continued to rise during the past four decades, making Britain the most popular destination in the European Union.
More than 90,000 Chinese students were enrolled at UK colleges and universities in 2015-16, which was up 94 percent on the number from a decade ago (46,960).