Presidents find common ground in ensuring development
By An Baijie in Da Nang, Vietnam and Zhang Yunbi in Beijing | China Daily | Updated: 2017-11-13 07:14




Ties between China and the Philippines are at a new starting point, and Beijing is ready to work with Manila to bring more benefits to its people, President Xi Jinping told his Philippine counterpart Rodrigo Duterte on the sidelines of the Asia-Pacific Economic Cooperation Economic Leaders' Meeting in Da Nang, Vietnam, on Saturday.
Friendliness and neighborliness are the right direction, Xi said.
Speaking of the South China Sea, Xi said China will continue to cooperate with ASEAN countries to maintain peace and stability and promote development and prosperity in the region.
Duterte said the Philippines is willing to handle maritime issues through bilateral channels in accordance with the consensus reached by the two sides.
The leaders met at a time when China has become the Philippines' largest trading partner, largest source of imports and second-largest source of foreign tourists.
Noting Duterte's state visit to China in October last year, Xi said a new page has been turned, and ties have seen healthy and stable development. Tangible benefits have been brought to both peoples and have contributed to the region's peace and stability, he said.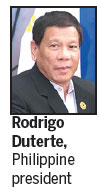 Duterte said ties with China are extremely important, and the Philippines regards China as a sincere friend.
Xi said China is willing to continue to view the bilateral relationship from a strategic, long-term perspective, and to enhance mutual political trust and deepen cooperation. The two countries should enhance high-level exchanges to ensure that development stays on the right track, Xi added.
Both countries should deepen their practical cooperation in areas such as infrastructure, agriculture and investment, and should focus on synergies between the Belt and Road Initiative and the Philippines' development strategy, Xi said.
Duterte said the Philippines is committed to pressing ahead with cooperation in various fields.
Chen Fengying, a senior world economy researcher at the China Institutes of Contemporary International Relations, said Manila's development goal - "Ambisyon Natin 2040" - harmonizes with the Belt and Road Initiative. Building on synergies will result in more Chinese companies tapping markets overseas and the Philippines benefiting from more investment and construction, Chen said.
Duterte said Manila is grateful for China's assistance with its economy, anti-terrorism efforts and maintenance of stability. Xi said China is willing to help the Philippines with poverty relief, and continues to support the Philippine government's efforts to safeguard national security.
A recent article by Chinese Ambassador to the Philippines Zhao Jianhua, issued on the embassy's website earlier this month, said that bilateral cooperation in fighting drug abuse has been productive. It noted that the two countries stay in close contact with regard to global affairs and ensuring regional peace, stability and development.
Contact the writers at zhangyunbi@chinadaily.com.cn