Strong earthquake hits Iraq and Iran, killing more than 300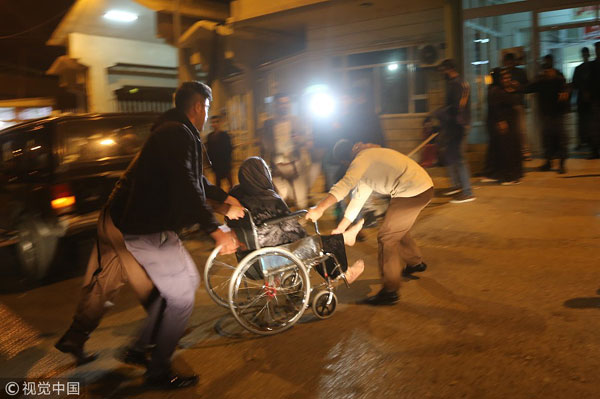 People carry a wounded person for treatment at Sulaymaniyah Hospital after a 7.2 magnitude earthquake hit northern Iraq in Sulaymaniyah, Iraq, Nov 12, 2017. [Photo/VCG]
ANKARA/BAGHDAD - More than 300 people were killed in Iran when a magnitude 7.3 earthquake jolted the country on Sunday, state media said, and rescuers were searching for dozens trapped under rubble in the mountainous area. At least six have died in Iraq as well.
State television said more than 348 people were killed in Iran and at least 6,600 were injured. Local officials said the death toll would rise as search and rescue teams reached remote areas of Iran.
The earthquake was felt in several western provinces of Iran, but the hardest hit province was Kermanshah, which announced three days of mourning. More than 300 of the victims were in Sarpol-e Zahab county in Kermanshah province, about 15 km (10 miles) from the Iraq border.
Iranian state television said the quake had caused heavy damage in some villages where houses were made of earthen bricks. Rescuers were labouring to find survivors trapped under collapsed buildings.
Iranian media reported that a woman and her baby were pulled out alive from the rubble on Monday in Sarpol-e Zahab, the worst hit area with a population of 85,000.
The quake also triggered landslides that hindered rescue efforts, officials told state television. At least 14 provinces in Iran had been affected, Iranian media reported.
Iranian Supreme Leader Ayatollah Ali Khamenei offered his condolences on Monday, urging all government agencies to do all they could to help those affected.
ANGRY PEOPLE
The US Geological Survey said the quake measured magnitude 7.3. An Iraqi meteorology official put its magnitude at 6.5, with the epicentre in Penjwin in Sulaimaniyah province in the Kurdistan region, close to the main border crossing with Iran.
Tempers frayed in the quake-hit area as the search went on for survivors amidst twisted rubble of collapsed buildings. State TV aired footage of disfigured buildings, vehicles under rubble and wounded people wrapped in blankets.
"We need a shelter ... " a middle-aged man in Sarpol-e Zahab told state TV. "Where is the aid? Where is the help?" His family could not spend another night outside in cold weather, he said.
Kurdish health officials said at least six people were killed in Iraq and at least 68 injured. Iraq's health and local officials said the worst-hit area was Darbandikham district, near the border with Iran, where at least 10 houses had collapsed and the district's only hospital was severely damaged.
"The situation there is very critical," Kurdish Health Minister Rekawt Hama Rasheed told Reuters.
The district's main hospital was severely damaged and had no power, Rasheed said, so the injured were taken to Sulaimaniyah for treatment. Homes and buildings had extensive structural damage, he said.
The quake was felt as far south as Baghdad, where many residents rushed from their houses and tall buildings when tremors shook the Iraqi capital.
"I was sitting with my kids having dinner and suddenly the building was just dancing in the air," said Majida Ameer, who ran out of her building in the capital's Salihiya district with her three children.
"I thought at first that it was a huge bomb. But then I heard everyone around me screaming: 'Earthquake!'"
Similar scenes unfolded in Erbil, the capital of the Kurdistan Region, and across other cities in northern Iraq, close to the quake's epicentre.
Iraq's meteorology centre advised people to stay away from buildings and not to use elevators in case of aftershocks.