Chinese actor focuses on expat life in new UK show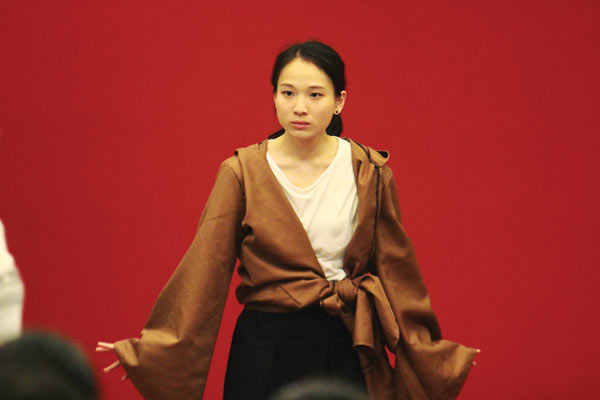 Wang Yuyu in a production of The Tempest in 2016. [Photo provided to chinadaily.com.cn]
London-based theater student Wang Yuyu explores the isolation and invisibility of Chinese people and other East Asians living in Britain in her new one-woman show.
The 24-year-old from Chongqing in Southwest China will perform The Invisible at the Blue Elephant Theatre in London. It tells the story of her experience of living in a foreign country – from landing in London to making new friends.
"I'm exploring the invisibility of Chinese people," she said. "Halfway through creating this show, it became a bit overwhelming because I realized it was such a huge topic. I wanted to talk about how everyone feels invisible at some point and also show that I'm like everyone else, I'm not that different."
The show aims to "explore the vulnerability, homesickness and otherness of overseas Asian communities, offering a new perspective on current contemporary discussions around immigration, alienation and home.
While some of the stories she tells during her performance are about herself, others are drawn from the experiences of friends.
In one scenario, Wang talks about a job interview in which her interviewer asked her why she chose to study in the UK after attending university in China. She said the question took her by surprise.
"That made me feel invisible, as if I didn't belong in Britain. Why was I here? I came all the way from my hometown to start something new and I felt invisible," she said.
Wang also wanted to explore the vulnerability of a solo performance because "there is something beautiful about it".
"A person, alone on the stage, outnumbered by the audience, it's intimidating but I can absorb the energy from these people," she said.
Wang said she is not trying to educate her audience or make anyone feel uncomfortable, she is simply interested in sharing stories and, perhaps, promoting mutual understanding.
"Instead of assuming the type of person I am because of my race, get to know me and where I come from," she said.
Wang said she would also like to see more Chinese people and other East Asians step into the spotlight in Britain's theater industry. With that goal, she has started her own theatre company, Cheeky Chin.
"There are so many Chinese and East Asians in Britain but I don't see many opportunities in the theater industry," she said. "I sometimes feel there is a stereotyping or discrimination, which is new to me, and this is something I want to work on."