Chinese FM calls for jointly building new type of Asia-Europe partnership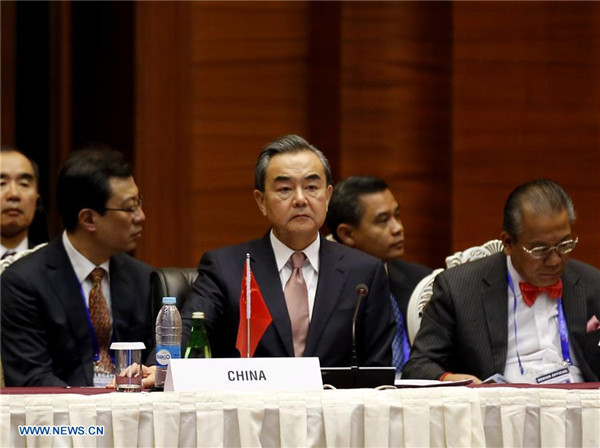 Chinese Foreign Minister Wang Yi (C) attends the 13th foreign ministers' meeting of the Asia-Europe Meeting (ASEM), in Nay Pyi Taw, Myanmar, on Nov 20, 2017. [Photo/Xinhua]
NAY PYI TAW - Chinese Foreign Minister Wang Yi on Monday called for jointly building a new type of Asia-Europe partnership at the 13th foreign ministers' meeting of the Asia-Europe Meeting (ASEM) in the Myanmar capital.
Wang said at first plenary session of the ASEM foreign ministers' meeting that the Communist Party of China successfully held its 19th National Congress last month, mapping out a grand blueprint for the development of China in the next 30 years.
Noting that China has entered a new era which will see the country foster closer connections with the world, Wang said China will continue to cooperate closely with all parties in Asia and Europe, and jointly strive for a brighter future.
The Chinese top diplomat urged concerted efforts to uphold regional peace and stability, saying that traditional and non-traditional security challenges are relatively concentrated in Asia and Europe.
Safeguarding regional peace and stability is the prerequisite for achieving development and prosperity and also the shared responsibility of all parties in Asia and Europe, he said.
Wang noted that mutual respect should be upheld and countries, big or small, are equal, adding that disputes should be resolved through dialogue and differences addressed through consultations.
The Chinese foreign minister also called on Asian and European countries to join hands to tap new growth drivers.