Chinese peacekeepers bring joy, solace to DRC orphans at SOS village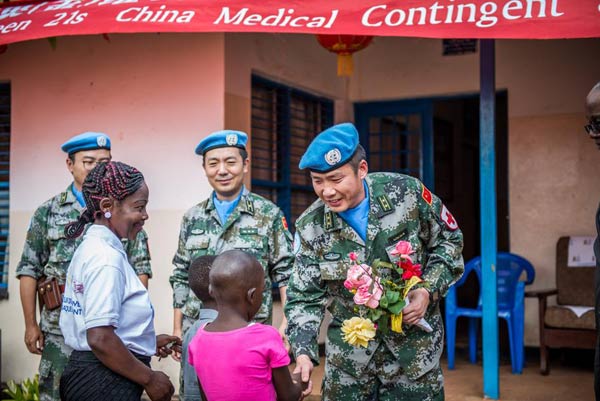 Chinese peacekeepers visit the SOS Children's Village in the city of Bukavu in eastern Democratic Republic of Congo (DRC) November 20, 2017. [Photo/Xinhua]
BUKAVU, DR Congo - For the past 12 years, Chinese peacekeepers have been providing assistance to the SOS Children's Village in the city of Bukavu in eastern Democratic Republic of Congo (DRC).

Over the years, every contingent of the Chinese peacekeepers dispatched to the conflict-torn region would follow a tradition of visiting the village, bringing along aid supplies and providing free medical services.

On a recent drizzly day, a Xinhua reporter followed the peacekeepers of the 21st Chinese peacekeeping mission based in Bukavu, who had arrived there a few months ago, on such a visit.

Eight-year-old Melissa told Xinhua that she and many other children have been living in the village since they were born. After classes, teachers would live together with the children. For them, the village is not only a school, but their home.

Statistics from the UN Children's Fund (UNICEF) show that among the 1.4 million people displaced in conflicts in the DRC over the past year, more than 850,000 were children.

Bukavu lies on a hillside overlooking Lake Kivu in South Kivu province, which has long been suffering from attacks targeting civilian and security institutions by local and foreign rebel militant groups. Thousands of civilians were killed in the region last year, according to the UN.

The SOS Children's Village in Bukavu is derived from its predecessor in Austria during the World War II, specializing in taking care of orphans. Founded in 1989, the Bukavu village is one of the earliest charity organizations in the DRC.

Village director Ciranee Cisika said the children are divided into 15 families, each of them with a "Mama" and 10 boys and girls of different ages.

The children are brothers and sisters who are taken care of by their "Mama," said Cisika.

SOS Children's Village Bukavu is equipped with facilities like school, medical center and vocational training center that are typical of ordinary family communities, where the children grow up until they become adults, said Cisika.