Peacekeepers bring China to life for village orphans in conflict-hit DRC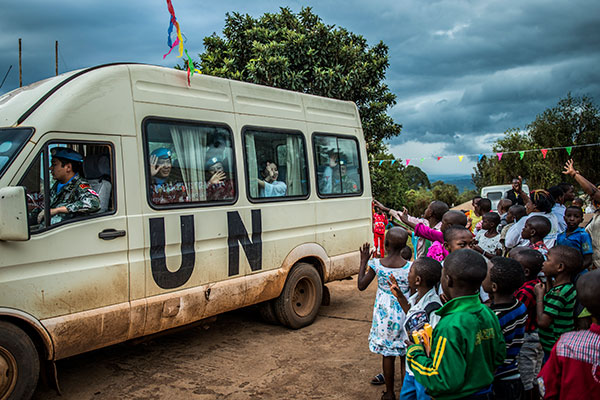 A new group of Chinese peacekeepers wave goodbye last week to children in the SOS Children's Village in Bukavu, Democratic Republic of Congo, after providing supplies and medical care. Chinese forces have offered assistance to the area for 12 years. LIAN QING/ XINHUA
BUKAVU, DR Congo - For the past 12 years, Chinese peacekeepers have been providing assistance to the SOS Children's Village in the city of Bukavu in eastern Democratic Republic of Congo.
Over the years, every contingent of the Chinese peacekeepers dispatched to the conflict-torn region would follow a tradition of visiting the village, bringing aid supplies and providing free medical services.
Eight-year-old Melissa said that she and many other children have been living in the village since they were born. After classes, teachers would live together with the children. For them, the village is not only a school but their home.
Statistics from the UN Children's Fund show that among the 1.4 million people displaced in conflicts in the DRC over the past year, more than 850,000 were children.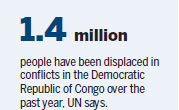 Bukavu, where the Chinese peacekeeping mission is based, lies on a hillside overlooking Lake Kivu in South Kivu province, which has long suffered from attacks targeting civilians and security institutions by local and foreign militant groups.
Thousands of civilians were killed in the region last year, according to the UN.
Village director Ciranee Cisika said the children are divided into 15 families, each of them with a "Mama", who takes care of 10 boys and girls of different ages.
The village, which was founded in 1989, is equipped with facilities like a school, medical center and vocational training center that are typical of ordinary family communities, where the children grow up until they become adults, said Cisika.
The village suffers from a chronic shortage of water and electricity. Frequent thefts by those displaced in regional conflicts add to the challenges facing the community, where there are only three security personnel.
Doctor Zhang Jian, a psychologist with the Chinese peacekeeping mission, offered the children a show of Chinese calligraphy. To his amazement, a boy named Daniel learned to write down a Chinese motto, "Study well and make progress every day", on the first attempt.
Eye specialist Yang Xia said the children were initially timid during their examinations but have gradually grown in confidence and remind her of her 4-year-old son.
With help from the SOS Children's Village and the Chinese peacekeeping mission, the living conditions of the children will be constantly improved, Yang said.
Cisika said as well as supplies and regular medical services, the peacekeepers have introduced the children to the world of Chinese culture, which has broadened their understanding of life.
The children may have yet to grasp what China is really like, but they are already showing signs of attachment to the peacekeepers.
With continuous help, the medical condition of the villagers has also improved, said Cisika.
Xinhua