First China-Finland train connection launched
A freight train loaded with timber set off on a 9110km journey from Finland to China for the first time on Friday.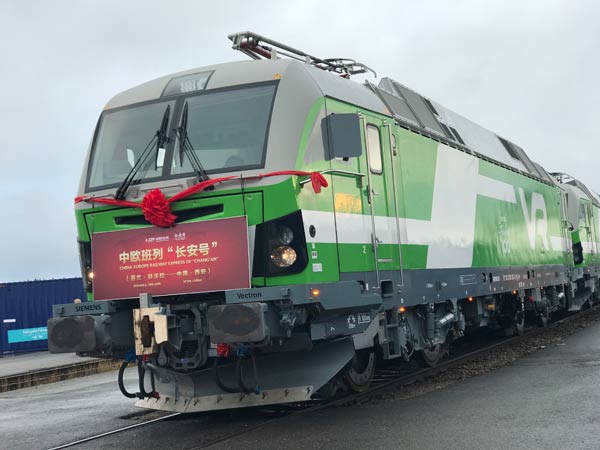 A freight train loaded with timber sets off from Finland to China on Friday.[Photo provided to chinadaily.com.cn]
The train, pulling 41 containers, left Kouvola in southeastern Finland and is expected to arrive in Xi'an via Kazakhstan and Russia in 17 days.
The Kouvola-Xi'an link is the first railway link to join China with the Nordic countries. It is operated by Kazakhstan Railway (KTZ Express) and jointly organised by Xi'an International Trade & Logistic Park and Kouvola Innovation Ltd.
The service will run once a week, with one train departing from Kouvola on Thursdays and another from Xi'an on Wednesdays.
More Scandinavian goods including electronic devices, spare parts, and agricultural specialties such as blueberry and salmon will be exported to China through Xi'an and equivalent cargos from Western China will be exported to the Nordic countries.
Antti Häkkänen, the minister of justice of Finland, said he is extremely pleased to see the new route opening between Kouvola and China. "Major global trends, such as digitalisation, automation and sustainable development, are going to have a significant impact also on the logistics and transport services of the future," he said.
"The new route will enhance the efficiency of transportation and bring a competitive edge to rail transport. I am convinced that this new Silk Road between Finland and China will prosper and flourish."
As the starting point of the original Silk Road trading route, Xi'an plays an important role in the Belt and Road initiative and is also a major road transport hub.
Nancy Li, general director from Scan-China International Link, said that Xi'an is poised to "connect east and west" as the new route provides both reliability and efficiency.
Flora Zhang contributed to the story