Ambassador urges Britain to be ready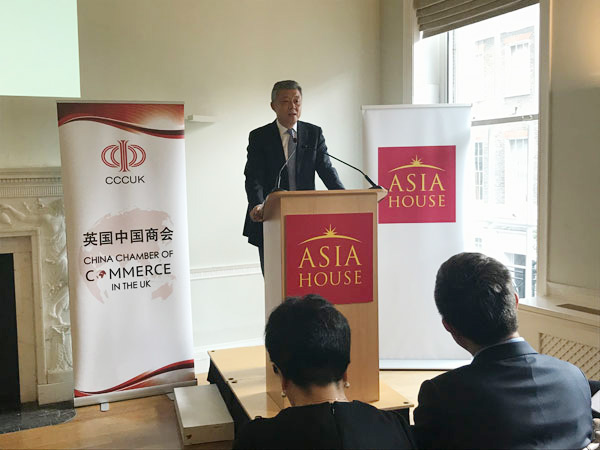 China's Ambassador to the UK Liu Xiaoming makes a keynote speech in London to more than 100 senior representatives from Britain's business community on Tuesday. [Photo/chinadaily.com.cn]
The recently concluded 19th National Congress of the Communist Party of China opened the door to deepened economic and trade cooperation with the United Kingdom, China's top envoy to Britain said on Tuesday during a keynote speech in London to more than 100 senior representatives from Britain's business community.
Reiterating China's adherence to further opening-up, and deepening reforms, Liu Xiaoming, China's ambassador to the UK, urged Britain to "read the strategies and policies adopted at the congress carefully".
Liu, who attended the congress, said he was deeply impressed by the long list of outcomes and far-reaching impacts in General Secretary Xi Jinping's epoch-making speech. Xi has clearly charted China's development path for the coming decades and set several development targets.
Liu said potential and opportunities will be abundant for UK businesses wanting to share in China's development.
"With the change of policy, China will be more engaged with the rest of the world," he said.
He suggested British companies "seize the opportunities, and turn these opportunities into concrete action".
China and the UK have already established practical cooperation, and bilateral trade reached $74.4 billion last year. From January to August this year, British exports to China increased by 13.2 percent and China remains the UK's fastest-growing export market.
The ambassador said China's direct investment in the UK last year exceeded $18 billion, surpassing Chinese investment in any other European country.
"In the coming years, our two countries can work harder for a productive, respected European strategy and deeper cooperation," he said.
Liu said he believes more businesses, more Chinese students, and more Chinese tourists will come to the UK.
"Britain and China will have closer trade and economic ties and deliver more golden fruits," he said, referring to the "golden era" between China and the UK that began during Xi's state visit to the UK in 2015.
The ambassador spoke about the congress, which ran from Oct 18-24, and its four major outcomes. First, it set the fundamental guidelines for China's development. Second, it reached an important conclusion about the evolving contradiction facing Chinese society. Third, it mapped out a new blueprint for China's development in the coming decades. And fourth, the congress elected a new CPC central leadership with Xi as its core.
Liu said China's economic and social development prospects are good and will be exciting in the future. And the country will achieve high-quality development, ensure inclusive growth, strive for green growth, and stay committed to open growth, he added.
China is committed to forging a new form of international relations featuring mutual respect, fairness, justice, and win-win cooperation, he explained.
More than 100 senior UK business representatives and reporters from British and Chinese media attended the event, coorganized by Asia House, China Chamber of Commerce in the UK and The 48 Group Club.