Ambassador praises language school for decade of spreading understanding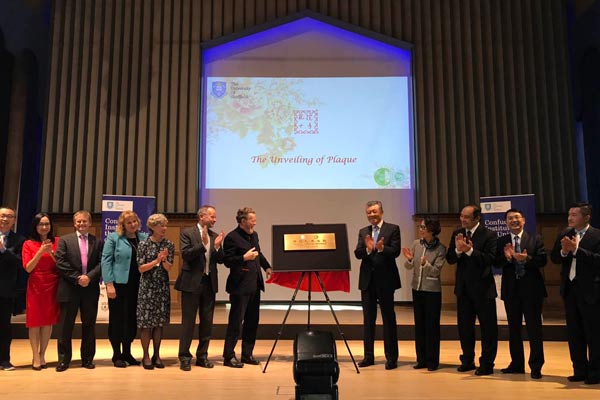 China's Ambassador to the UK Liu Xiaoming, and his wife Hu Pinghua, join University of Sheffield vice-chancellor Keith Burnett on Wednesday at the unveiling of a plaque to mark the 10th anniversary of the Confucius Institute in Sheffield. [Photo/chinadaily.com.cn]
The Confucius Institute at the University of Sheffield celebrated its first decade of teaching students about Chinese culture and language on Wednesday, with an exhibition, movie screening, performances, and the unveiling of a plaque.
Liu Xiaoming, China's ambassador to the United Kingdom, said in a speech: "The Chinese language carries 5,000 years of Chinese civilization. It is a bridge of mutual learning between China and the world. Therefore, being able to speak Chinese is like holding a key to discover the journey of Chinese civilization."
Liu noted that this year marks the 45th anniversary of ambassador-level relations between China and the UK and that it is also a year for consolidating the nation's "golden era".
"And good state-to-state relations hinge on people-to-people, and heart-to-heart communication," Liu said.
He suggested students from both countries "engage with each other, get to each other, and understand each other", work championed by the Confucius Institute.
Nadia Aleo, 21, a Sheffield University student majoring in Chinese and business management, said she was initially curious about the language. Later,through the language, she learned more about the nation and the ancient civilization.
She has since visited the country and plans to move there after graduation.
"I think Chinese will also give me good job opportunities, whether in China or in England," she said.
Dan Reader, a 21-year-old chemistry major at the University of Sheffield, said: "I really do enjoy learning Chinese. It was not as hard as I expected, thankfully."
He has been to China three times and was impressed with how developed parts of the nation were.
"I think the media portrayal and the stereotypes of China in the UK are usually incorrect, and so it was quite different to what I was told to expect," he said."For example, the public transport system in cities was generally good, the country doesn't smell awful. That is a 'well-known fact' about China that I completely refute. And the people were very polite and helpful."
Currently, Britain is the leader among nations in the European Union in terms of international exchanges with China and the level of teaching of the Chinese language. The UK has 29 Confucius Institutes and 145 Confucius Classrooms and more than 130,000 registered language students.
Opened by then deputy prime minister John Prescott in January 2007, the Confucius Institute at the University of Sheffield was one of the first to be established at a UK university.
The institute is an international collaboration between the university and Hanban, which is the official Chinese authority responsible for the promotion of the Chinese language and the nation's culture overseas. Other partners in the institute are Beijing Language and Culture University and Nanjing University.
Zhang Yangfei contributed to the story.