France's Macron presents his receipt for Europe amid mounting populism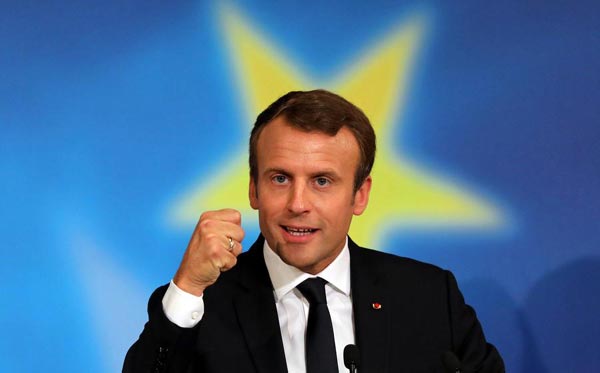 French President Emmanuel Macron delivers a speech to set out plans for reforming the European Union at the Sorbonne in Paris, France, Sept 26, 2017. [Photo/Agencies]
PARIS - French President Emmanuel Macron on Tuesday rose the curtain on his vision for Europe where populism was building momentum, calling for closer ties to build joint defense force, common fiscal policy and coordinate efforts to tackle migration crisis and climate change.
"I'm here to speak about Europe. Some say again! Yes again," Macron said. "The Europe we know is too weak, too slow, too inefficient, but Europe alone can give us a capacity to act in the world in the face of the great contemporary challenges," he added.
Speaking at the Sorbonne University in Paris, two days after the far-rightist scored an unprecedented gain in Germany's election, the French head of state warned about the surge of nationalism advocates.
"Europe today is more fragile, exposed to nationalism, protectionism. They say they are legitimate because they exploit people's fear. But, I will let nothing, nothing to those who promise hatred, division and turning on nationalism," Macron told the crowd.
In order to overcome this challenge, "the only path that assures our future is the rebuilding of a Europe that is sovereign, united and democratic," the French president noted.
Instead, he proposed "at the beginning of the next decade, Europe must have a common intervention force, a common defense budget and a common doctrine to act."
"In defense matters, our objective must be Europe's autonomous capacity to act as a complement to NATO," he added.
Painting his vision for Europe, Macron also called on his European partners to set up an intelligence academy "to strengthen the ties between our countries through training and exchange" and a "European prosecutor's office against organized crime and terrorism."
"Faced with the international terrorism, the Europe of security must be our shield," he stressed.
At the economic and financial level, Macron urged coordinated moves to make the single-currency bloc "the heart of Europe's global economic power."
"Europe needs the instruments to make it an area of growth and stability, including a budget allowing it to fund common investments and ensure stabilization in the event of economic shocks," he said.
Besides, he wants to see the appointment of a eurozone finance minister to coordinate fiscal policies of the 28 member countries.
"The fundamental stake is not a mechanism that magically solves all the problems. The challenge is to reduce unemployment which hits again the eurozone. It's a long-term economic and politic strategy that we need," he said.
"We need convergence and stability by national reforms, political coordination and common budget," he added.
In his receipt for Europe, Macron also proposed reinforced cooperation on immigration, border protection, corporate tax and energy transition in addition to innovation of economy.