Quake-hit Mexico City unveils reconstruction plan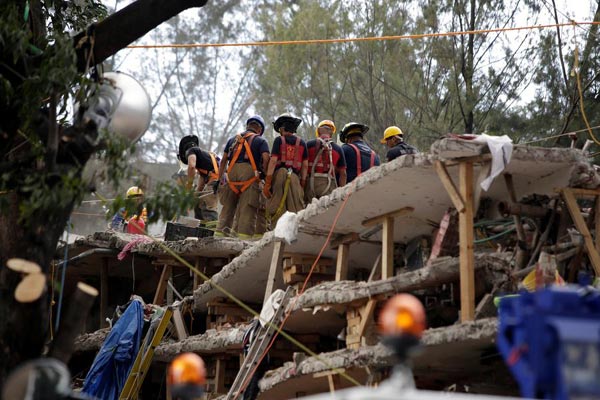 Mexican fire fighters stand on the rubble of a collapsed multi-family residential building, after an earthquake, in Mexico City, Mexico Sept 25, 2017. [Photo/Agencies]
MEXICO CITY - A week after Mexico City's deadliest quake in three decades, the local government on Tuesday unveiled a reconstruction plan to make buildings more quake proof.
"Today we begin the implementation of a plan for the repair, recovery and transformation of Mexico City into a more resilient city," Mayor Miguel Angel Mancera told reporters at a press conference here.
Mancera presented an initial package of emergency measures to respond to the immediate economic and social needs of quake victims, including some 25,000 residents left homeless and currently in shelters.
Those who lost their homes will be eligible to receive some 3,000 pesos (about 167 US dollars) a month to help pay rent.
The government will also help subsidize repairs, with the amount depending on the severity of the damage.
"If the property is damaged but can be inhabited, expenses will be covered for (repairing) cracks, and broken glass and ceilings," said Mancera, adding house owners will be able to receive up to 8,000 pesos to cover the expenses (445 US dollars).
The reconstruction plan foresees repairing nearly 12,000 properties that have been classified into three categories -- 10,000 green, 1,300 yellow and 500 red -- according to the extent of destruction.
Mexico City is divided into 16 delegations, or boroughs, each with its own borough chief, and they are to complete a census of the damage and present the results to the Federal Natural Disaster Fund (Fonden) to release funding.
The financial group BBVA Bancomer announced Tuesday it will donate 180 million pesos (around 10 million US dollars) for the reconstruction of schools in Mexico damaged by the 7.1-magnitude earthquake on Sept 19.
The 7.1-magnitude earthquake struck central Mexico a little past 1 pm on Sept 19, 32 years to the day after a deadly 8.1-magnitude quake killed thousands in Mexico City.
The death toll so far stands at 333, nearly two-thirds of the victims were killed in Mexico City, where at least 38 buildings collapsed.