26 killed in Texas church shooting, Trump denounces attack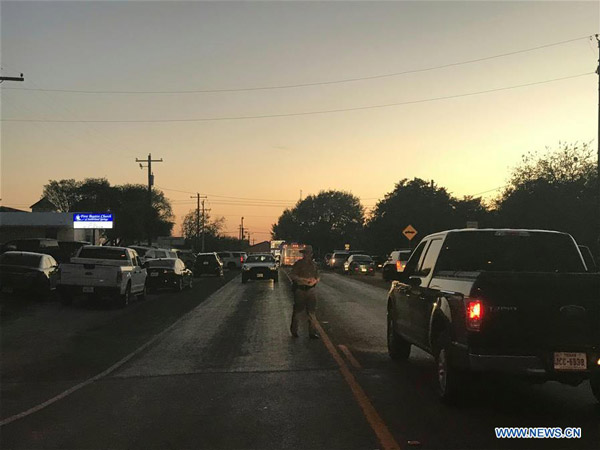 A road near the attack site is blocked by police in Sutherland Springs of Texas, the United States, Nov 5, 2017. Twenty-six people were shot dead when a gunman opened fire at a church during Sunday services in Sutherland Springs, Texas Governor Greg Abbott said on Sunday. [Photo/Xinhua]
HOUSTON -- At least 26 people were killed after a gunman opened fire at a church during Sunday services in Sutherland Springs in the U.S. state of Texas, Governor Greg Abbott said on Sunday.
"Unfortunately I'm sad to tell you that at this moment of time there are 26 lives that have been lost. We don't know that number will rise or not," Abbott said.
The shooting attack in the church was the deadliest mass shooting in the state's history, he added.
Most of the victims, ranging in age from 5 to 72 years old, have not been identified although the deceased included the 14-year-old daughter of pastor Frank Pomeroy, the church leader told the press.
The shooting happened at the First Baptist Church of Sutherland Springs, approximately 35 km southeast of San Antonio.
A man walked into the church at around 11:30 a.m. (1730 GMT) on Sunday and opened fire at the crowd of people.
As he left the church, a local resident grabbed his rifle and engaged with the suspect, Texas public safety officer Freeman Martin said.
The car of the suspect was found nearby later with the suspect dead inside. It remains unclear if the suspect was self-inflicted a gunshot wound or was shot with gunfire by local residents who engaged him.
"The suspect has not been completely identified. He was believed to be a young white male, maybe in his early 20s," Martin said, adding that investigation has been going on with the aid of the FBI and other departments.
While police have surrounded the area, heart-wrenching relatives and neighbors stood outside awaiting news from inside the church.
Some 20 injured people were being treated at local hospitals, authorities said.