THAAD may lead to $7.5b economic loss in 2017: South Korean media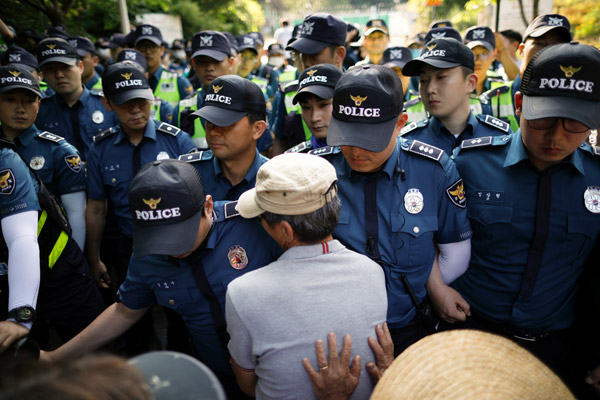 Villagers scuffle with South Korean policemen as they march during an anti-THAAD protest near an entrance of a golf course where a Terminal High Altitude Area Defense (THAAD) system is deployed, in Seongju, South Korea, June 14, 2017. [Photo/Agencies]
The economic losses to South Korea from Chinese reaction over the deployment of the US Terminal High Altitude Area Defense (THAAD) system will be $7.5 billion in this year alone, according to a report released Monday by South Korean Hyundai Research Institute, Aju Business Daily based in South Korea reported.
The losses are equivalent to 0.5 percent of the nation's nominal GDP through the end of this year, said the institute.
Bank of Korea said due to the THAAD deployment, South Korean culture and entertainment industry took a big hit, with audiovisual services surplus reaching $179.9 million in the first half year of 2017.
The figure is down 23.2 percent, or $54.3 million, from $234.2 million tallied for the second half of last year and a further drop of $96.2 million from $276.1 million reached in the first half of 2016.
The monthly surplus was $17.5 million in July, the lowest since September 2015.
Audiovisual services include motion picture and video tape production and distribution services, radio and television services, sound recording.
Previously, South Korea had been enjoying an expansion of surpluses in the trade of culture and entertainment content for the past few years, bolstered by the popularity of "hallyu".