Police hunt suspects in failed London bomb attack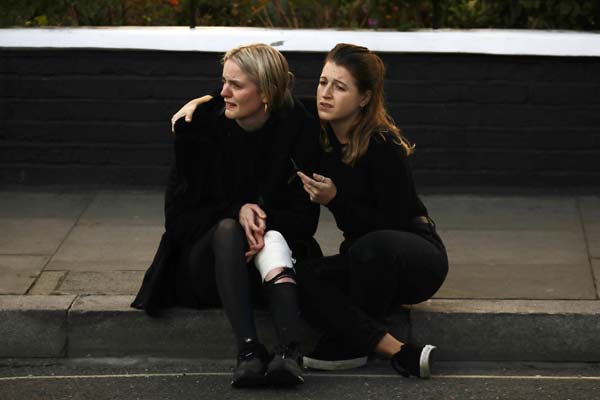 An injured woman reacts outside Parsons Green tube station in London, Britain September 15, 2017. [Photo/Agencies]
Police in London are trying to hunt down a possible network of terrorists after a bomb exploded prematurely on a busy commuter train on Friday morning.
Eighteen people were injured after the device exploded on a train as it drew into Parson's Green station in south-west London. Witnesses heard a bang and saw a wave of flame spread through the train carriage. Many passengers were burnt and others rushed off the train and out of the station in panic, causing more injuries in the stampede. London Ambulance Service said none of the injuries were serious or life-threatening.
The Mayor of London Sadiq Khan condemned "the hideous individuals who attempt to use terror to harm us and destroy our way of life." He later participated in a government meeting in response to the bomb that was chaired by the Prime Minister Theresa May.
The explosion follows two vehicle and knife attacks in London earlier this year which left 13 dead. The four perpetrators, who appeared to be motivated by radical Islam, were also killed.
The UK authorities have maintained their terrorism threat level as severe meaning a terrorist attack was likely.
Images on social media showed the device, a white plastic bucket of the kind used for building supplies with flames coming out of it. Wires protruded from the bucket which was carried in a plastic bag from a supermarket chain. The surrounding carriage did not appear to be damaged.
The explosion took place at 8:20 at the height of the London rush hour and the carriage would have been packed as it transported commuters from Wimbledon to central London. It took place on a section of the District Line of the London underground which runs overland and at Parsons Green is elevated above street level.
Police sources said they believed the bomb only partially detonated, producing only a flare and little blast. The suspect who carried the bomb may also have been injured. Police were analysing CCTV footage from the train itself and the five stations at which the suspect could have boarded the train.