Montero recalls blast from past
ROSARIO, Argentina - For Uruguay's Paolo Montero, Juventus versus Real Madrid means more than just Saturday's Champions League final in Cardiff.
It triggers memories of a similar night 19 years ago with his then Juve teammate Zinedine Zidane.
Now manager of Argentine side Rosario, Montero, 45, spoke on Tuesday about that match as the French maestro, 44, leads Real as coach into its first final against the Italian side since that night.
Saturday's match is a chance for Juventus to settle the score after Real's narrow 1-0 victory in Amsterdam in May 1998.
"We both went into the final as favorites; it was a very even match which was decided by a little thing, they scored against us after a deflection," Montero said.
Former Yugoslavia international striker Predrag Mijatovic tucked away the only goal to win the title for Real Madrid in a frustrating night for Zidane and Montero.
"It is a sad memory since we didn't manage to win," Montero said.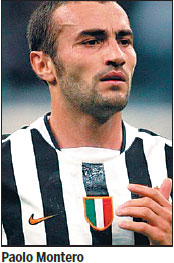 "But history has shown that Real is made for finals, because they have kept on winning."
Juventus coach Massimiliano Allegri has admitted 11-time European champion Real is a heavy favorite.
However, Montero is convinced his former team has a good chance of triumphing in the Welsh capital as it chases the treble, having won the league and cup in Italy for a record third straight time.
"Juve to me look very strong defensively, and very efficient in that even if they only get a few chances to score, they convert them," Montero said.
"On top of that, I think they are lucky to have Gianluigi Buffon," he said of Juve's 39-year-old goalkeeper.
"There's a reason he is considered one of the best goalkeepers of all time. For what he has done in the course of his career, he deserves to win this one."
Montero played alongside a Zidane at the height of his powers. The 1998 match came just months before he won the World Cup with France.
"Zidane is blessed. He is the best teammate I had and one of the most simple and humble people I have ever met ... and now he is showing that he is also a great coach," the Uruguayan said.
"In life and in Juventus I have learned that the best people are the most humble ones - the ones who train the most and share the most. Zidane is one of those people.
"There is no 'I', there is just 'We'. That is what I learnt when I arrived to play at Juventus."
Now they both find themselves coaching - Zidane at one of the most successful clubs in the world, and Montero in the high-pressure top league in soccer-crazy Argentina.
"There is a lot of pressure but I take it positively. I'm always looking to grow and you develop a thick skin from the way football is here," he said.
"A manager like Zidane might find it difficult to coach given the player he was himself - because he is one of the 10 best players of all time, no question about that."
Agence France - Presse
(China Daily 06/01/2017 page22)