Edinburgh Zoo panda Tian Tian believed to be pregnant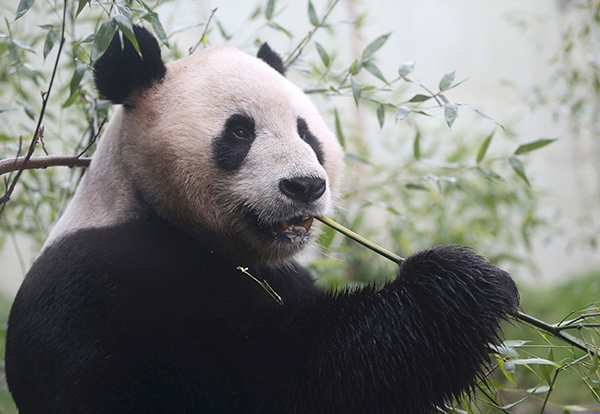 Tian Tian, a giant panda eats bamboo in the outdoor enclosure at Edinburgh Zoo, Scotland April 12, 2016. [Photo/Agencies]
Tian Tian, the only female Chinese giant panda in the UK, is believed to be pregnant and may give birth soon, officials at Edinburgh Zoo have confirmed.
A spokeswoman for the Royal Zoological Society of Scotland said: "Giant panda breeding is a very complicated process but we believe that Tian Tian is pregnant."
Emails between Edinburgh Zoo and the Scottish Government, obtained through a freedom of information request, suggest the birth is imminent, though the zoo did not disclose a specific date.
The spokeswoman said: "Like all babies, it's hard to predict precisely and the panda breeding season can last until late September. Tian Tian is being closely monitored by our expert team and we will be the first to share any news as soon as we can."
Tian Tian, which means Sweetie, and male panda Yang Guang (Sunshine) arrived at Edinburgh Zoo in 2011 as part of a 10-year agreement on panda conservation signed by China and the UK.
Under the terms of the agreement, panda cubs born through the breeding program must be returned to China when they turn two years old.
Tian Tian and Yang Guang are the only giant pandas in Britain. A separate pair, Ming Ming and Bao Bao, left London Zoo in 1994 after failing to breed.
Tian Tian has previously fallen pregnant while at Edinburgh Zoo, via artificial insemination, but never produced a cub. She successfully reared twin cubs in China in 2009.
Giant panda breeding is a complicated process, involving difficult pregnancies and challenging neonatal care, according to researchers.
Giant panda fetuses are tiny and hard to detect, while adult females can experience "pseudo-pregnancies" where their behavior and hormonal changes suggest pregnancy when none exists.
The zoo said in a statement that they have supported over 30 conservation projects to help safeguard the wild population of giant pandas in Western China, and their work has contributed to the reclassification of the giant panda from "endangered" to "vulnerable" in the wild.