Kenya's new China-built railway carries 150,000 in two months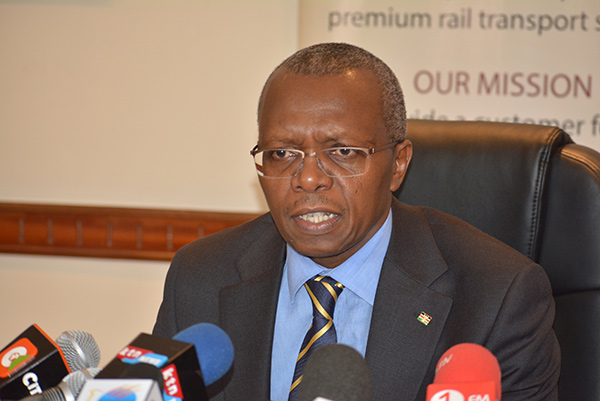 Atanas Maina says the passenger service dubbed Madaraka Express has transported approximately 150,000 passengers with the demand increasing on daily basis. [Photo provided to China Daily]
Barely two months since Kenya commissioned its Chinese-built Standard Gauge Railway, the transport system is seeing heavy demand from travellers between Nairobi and Mombasa.
The service, dubbed the Madaraka Express, has transported approximately 150,000 passengers with the demand increasing on daily basis, according to Atanas Maina, managing director of Kenya Railways Corporation.
Kenya Railways said it will review the passenger numbers so as to increase the frequency of trains and number of locomotives in order to meet the growing demand.
"The corporation remains committed to meeting this growing need by increasing the number of trains as well as frequency of schedule, all in due course," he said.
The train's average speed is 100 kilometers per hour. Trains have been stopping only at Mtito Andei to allow for passage of the oncoming intercity train. However, from Aug 1 another stop will be introduced at Voi.
"Operations at the remaining intermediate stations, namely Mariakani, Miasenyi, Kibwezi, Emali and Athi River, will start once the operations of the county trains commence," Maina told a news briefing.
He said KR is currently revisiting the ticket format and will soon be rolling out a new version of the tickets incorporating passenger's identification details, thus addressing the issue of unscrupulous purchase and resale of tickets at a premium.
"We have enhanced surveillance at the termini and the security team is on the ground to monitor any such occurrences and handle them appropriately," Maina said.
He noted that the ticketing process has taken a lot of time because the handover process from construction to Kenya railways and then to the operator was delayed. "We now have technical team on the ground and hope in the next few weeks we will launch an online ticketing platform," he said.