Web firm facilitates trade with China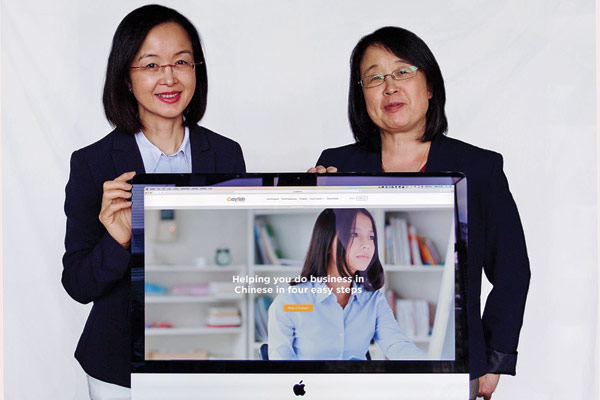 The two founders of Crayfish see the service as a "one stop shop" to help businesses operate in China. [Photo provided to China Daily]
The first online marketplace to get Chinese projects, tasks and jobs done by qualified bilingual speakers has been launched.
Crayfish, which operates with a similar model to that of the global freelancing platform Upwork, helps British and Western businesses operate in China.
Users post projects on the site and bilingual freelancers with relevant qualifications respond with bids and proposals.
After a proposal is accepted, users pay the fee to Crayfish which is then released, minus commission, to the freelancer upon completion of the job. The company said it is meeting a "real need for a single source of help" for those doing business in China by providing useful information, knowledge and insight as well as a mechanism to get Chinese projects done, quickly and affordably. Crayfish co-founder Zhang Ting, from Sichuan province, graduated from Cambridge University's Judge Business School in 2000 before holding various roles in Chinese trade and investment.
She said technology can provide solutions to cross-cultural barriers in the business world.
"Most SMEs do not have the in-house resources to handle Chinese projects, and consultants and agencies are expensive," she said. "We have enabled them to access qualified Chinese speakers in their specific fields."
The service started in mid-June. So far, the largest fee paid to a freelancer is 1,500 pounds ($1,960) for a translation of a 115-page transfer pricing document for a company listed on the London Stock Exchange.
"They were promised a translation from an agency and were let down two days before," Zhang said.
"Within five hours of posting on our site they attracted seven proposals and chose a freelancer who had 25-years' experience."
The site also handles smaller commissions.
For 50 pounds, a UK semiconductor company used a China-based translator with a degree in electronic engineering to draft the Mandarin version of a technical press release.
And project postings are starting to move beyond translation.
A UK solar company is currently reviewing proposals from China-based freelancers with industry experience to help find samples and buyers in the Chinese market.
"In the post-Brexit era, British business have to start looking at exporting to countries outside the EU, and China is one of the most important markets," Zhang said.