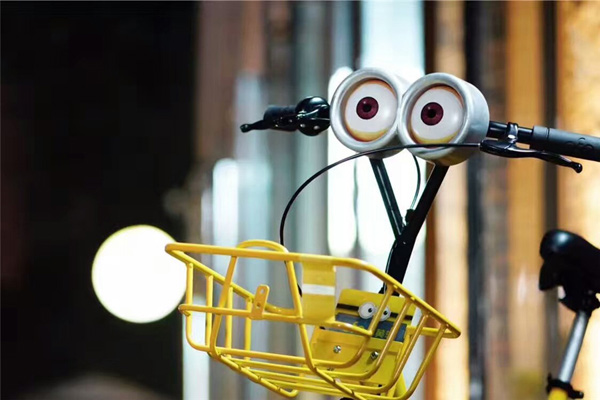 A new tailor-made bike by Ofo Inc. [Photo provided to chinadaily.com.cn]
Ofo, the Chinese bike-sharing company, says it is planning to introduce its dockless bicycles onto the streets of Oxford, England.
The historic university city would become the company's second UK location after it launched a similar service in Cambridge earlier this year.
Joseph Seal-Driver, Ofo's operations director, said Oxford is a good fit for the bike scheme due to its ambitious emission-reduction targets. The local city council is considering banning petrol and diesel cars from the main center by 2020.
"Oxford's zero emissions zone is just the type of bold and aggressive thinking we need if we are serious about tackling air pollution and climate change,'' Seal-Driver told the Oxford Times newspaper. "After a successful trial phase in Cambridge, we are looking to roll out into a number of cities around the UK. We believe we could make a difference in Oxford."
Oxford City Council's Cycling Champion, Councillor Louise Upton said:"Several companies, including Ofo, have contacted the City Council about setting up dockless bike schemes in Oxford, and we are working with them to make sure they offer a service that is good for the city."
"Oxford is a cycling city and our ambition is to significantly increase the number of people commuting to work by bike, which will help reduce air pollution and congestion, and keep people fit and active."
Angela Cai, a spokeswoman for Ofo, said the company hopes the UK will serve as its gateway into the rest of Europe.
It has so far launched schemes in 150 cities, registering 2 billion trips in China, the US, the UK, Singapore and Kazakhstan.
Ofo and its rival, Mobike, are the largest of China's many dockless bike-sharing companies, where riders use a mobile app to pay per ride and are able to leave bikes where they please.
Ofo rolled out several dozen of its signature yellow bikes for a three-week pilot launch in Cambridge, while Singaporean bike-sharing company oBike has launched in London. Mobike has started a service in Manchester.
Local authorities in the UK have generally shown support for such schemes, though some have expressed concerns that the bikes could clutter up city centers if they are not managed properly.
"We need to make sure we get the right approach-one that encourages cycling but doesn't lead to bicycles clogging up the pavements of our small Medieval city," said Upton.
More than a dozen dockless bike-sharing companies operate in China, where many cities battle to clear public areas of dumped bicycles.
Ofo faces competition in Oxford.
Cycle.land, which already operates in the city, connects riders with owners who share bikes they are not using.
Oxford also has a fleet of bikes that use docking stations, similar to London's Santander Cycles.