Brexit talks start in Brussels with 20 months to go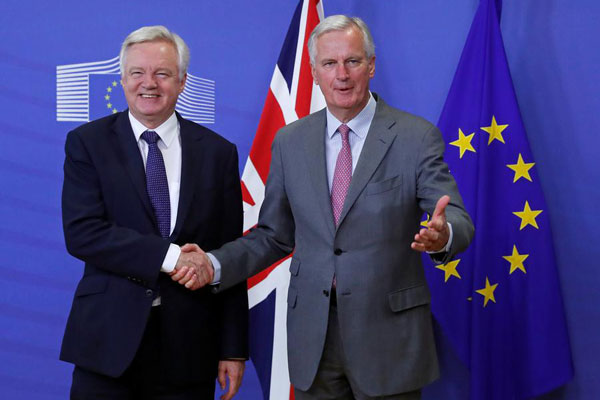 UK Secretary of State for Exiting the European Union David Davis (L) is welcomed by the European Commission's Chief Brexit Negotiator Michel Barnier at the start of a first full round of talks on Britain's divorce terms from the European Union, in Brussels, Belgium July 17, 2017. [Photo/Agencies]
Three more weeks of talks, interspersed with internal EU sessions to coordinate the views of the 27 other governments, are scheduled, from late August until early October. At that point, Barnier hopes to be able to show "significant progress" on the divorce priorities for EU leaders to give him a mandate to launch negotiations on a future free trade agreement.
Davis and May had pressed over the past months for trade talks to start immediately but accepted the EU's sequence for negotiations last month. However, Brussels accepts that details on the divorce terms will still be open when trade talks begin.
In a sign British ministers are coming round to the EU view that a trade deal can at best be sketched in outline over the next 20 months, two members of May's cabinet who were on opposing sides of the Brexit referendum debate both said they expected some transitional phase to start in 2019 to smoothe the passage from full EU membership to a final free trade pact.