Brexit talks start in Brussels with 20 months to go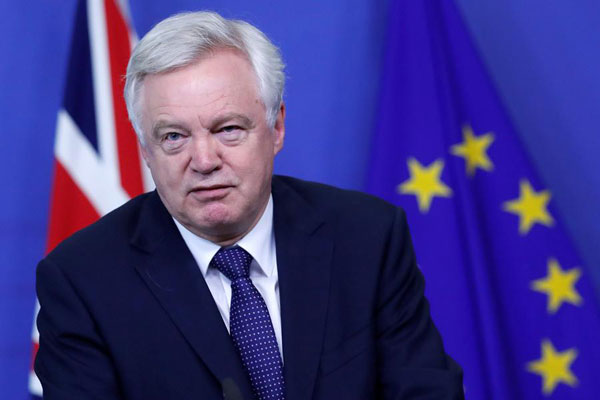 UK Secretary of State for Exiting the European Union David Davis gives a statement at the start of a first full round of talks on Britain's divorce terms from the European Union, in Brussels, Belgium, July 17, 2017.[Photo/Agencies]
PRIORITIES
Barnier, who secured Davis's consent last month to the EU's broad structure for talks, wants to hold the Englishman publicly to whatever else has been agreed during the week, EU officials say.
Working groups will focus on three areas: citizens' rights; the EU demand that Britain pays some 60 billion euros ($69 billion) to cover ongoing EU budget commitments; and other loose ends, such as what happens to British goods in EU shops on Brexit Day.
Davis's office described an offer made by Britain last month on citizens' rights as "fair and serious". But Barnier has dismissed it as falling short of the EU demand that its three million citizens in Britain keep all their existing rights for life and have recourse to the EU courts to enforce those rights even after Britain has left.
A fourth set of talks, run by Davis and Barnier's deputies Oliver Robbins and Sabine Weyand, will focus on curbing problems in Northern Ireland once a new EU land border separates the British province from EU member Ireland to the south. Some of that will have to wait for clarity on future trade relations.
One key early advance that EU officials hope for this week is for Britain to stop challenging the principle that it will owe Brussels money - though how much will have to be argued over and cannot be calculated until Britain actually leaves.