Macron expects Trump to come back to Paris accord, perhaps in 'coming months'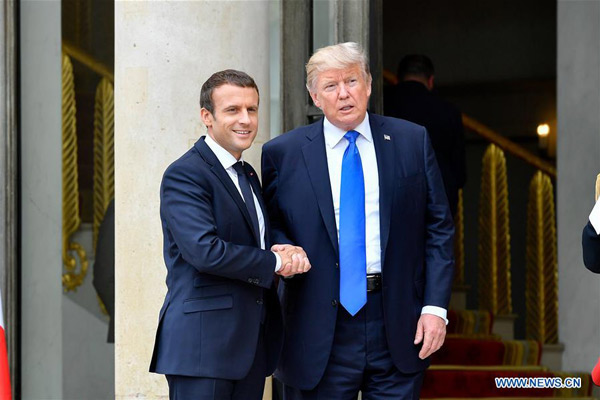 French President Emmanuel Macron (L) shakes hands with US President Donald Trump at the Elysees Palace in Paris, France, on July 13, 2017. US President Donald Trump arrived in Paris on Thursday morning in a diplomatic move to soften divergence with France over climate change and trade liberalization by seeking common ground on security and fight against terrorism. [Photo/Xinhua]
PARIS - French President Emmanuel Macron said Sunday he hoped his American counterpart Donald Trump would reverse his decision to withdraw the United States from the Paris climate accord.
"Donald Trump listened to me, he understood the meaning of my approach, including the link between global warming and terrorism. He told me that he would try to find a solution in the coming months," Macron said.
"We spoke in detail about the things that could make him come back to the Paris accord," he told the weekly Le Journal du Dimanche.
"It is important to maintain the dialogue so that the United States can eventually reintegrate the field of action against global warming and play the game of multilateralism," said Macron, who pleaded for continued talks with Washington despite divergence over the climate issue.
During his first visit to Paris, Trump on Thursday hinted at a possible change in his position over the Paris climate accord from which he pulled out weeks ago.
"Something could happen with respect to the Paris accord, let's see what happens," he said.
"We will talk about that over the coming period of time and if it happens, that will be wonderful, and if it doesn't, that'll be okay too," he added.
Agreed by 195 member economies which attended the 2015 United Nations Climate Change Conference (COP21) in Paris, the accord aims to cut greenhouse gas emissions in a way to keep the rise in the average temperature no higher than 2 degrees Celsius above pre-industrial levels.