Decades later, Ono to get co-writing credit for Lennon hit Imagine
NEW YORK - Nearly half a century after John Lennon released the song Imagine, his widow and artistic collaborator Yoko Ono will be listed as a co-writer.
The announcement was made as the iconic 1971 ode to world peace was declared "song of the century" at a gala of the National Music Publishers Association on Wednesday in New York.
As Ono and their son Sean Lennon came up to receive a trophy, the association announced unexpectedly that Ono would join John Lennon on the songwriting credits.
During the gala, a BBC interview with John Lennon in 1980, shortly before he was assassinated, was shown in which he said that Imagine was inspired in part by lines in Ono's conceptual art book Grapefruit.
"Imagine should have been credited as a Lennon/Ono song. If it had been anyone other than my wife, I would have given them credit," John Lennon said.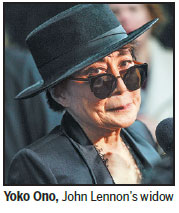 Sean Lennon later wrote on Facebook that the announcement was the "proudest day of my life".
Patti Smith, the godmother of punk rock, and her daughter, Jesse Smith, marked the occasion by performing Imagine as Ono and her son accepted the award.
Ono, herself an avant-garde artist when she met Lennon while he was still a Beatle, collaborated closely with Lennon and has sought to preserve his legacy since his death.
Imagine, with its call for a world without divisions, remains one of pop music's most recognizable tracks and an anthem of peace activists.
Ono is unlikely to see any personal windfall in the immediate future, since she already is heir to Lennon's estate.
But the change could have a practical effect, because under US law songs come into the public domain - meaning that writers no longer receive royalties - 70 years after publication, with Ono's addition to the credit potentially extending the period.
AFP