China 'gravely concerned' about reported killing of kidnapped Chinese in Pakistan
BEIJING - China on Friday expressed grave concern over the reported killing of two Chinese nationals kidnapped in Pakistan late last month.
"We have taken note of relevant reports and we express our grave concern," Foreign Ministry spokeswoman Hua Chunying said in response to the reports. "We have been trying to rescue the two kidnapped hostages over the past days."
"The Chinese side is working to learn about and verify relevant information through various channels, including working with Pakistani authorities," she said.
"China is against any act of kidnapping of civilians and opposes terrorism and extreme violence in any form," Hua added. Islamic State has killed two Chinese teachers it kidnapped in Pakistan's southwestern Baluchistan province last month, the militant group's Amaq news agency said on Thursday, Reuters reported at midnight on Friday.
The Reuters report quoted a Baluchistan government spokesman as saying that officials were in the process of confirming "whether the report was true".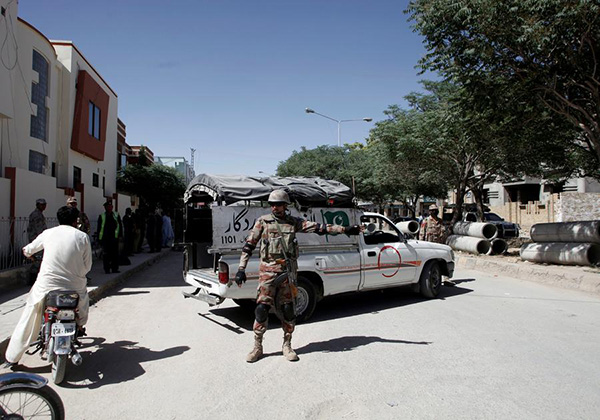 A soldier stands guard near the site where two Chinese language teachers were kidnapped by unidentified gunmen, in Quetta, Pakistan, May 24, 2017. [Photo/Agencies]
Two Chinese language teachers, based in the Pakistani township of Jinnah, Quetta city, in the southwestern province of Baluchistan, were captured by gunmen pretending to be police on May 24, Pakistani newspaper The Dawn, reported two weeks ago.
The report said three Chinese citizens - two women and a man - were intercepted by three people in a white car while leaving a language center and forced them into the vehicle at gunpoint. One of the women narrowly escaped during the turmoil when the kidnappers fired warning shots into the air to scare passers-by and the other two, a couple, were taken away.
Islamic State, which controls some territory in neighboring Afghanistan, has struggled to establish a presence in Pakistan. But it has claimed several major attacks, including one on the deputy chairman of the Senate last month in Baluchistan, in which 25 people were killed.
Earlier on Thursday, Pakistan's military published details of a three-day raid on an militant hideout in a cave not far from Quetta, saying it had killed 12 "hardcore terrorists" from a banned local Islamist group and prevented Islamic State from gaining a "foothold" in Baluchistan, said Reuters.
Reuters/The Dawn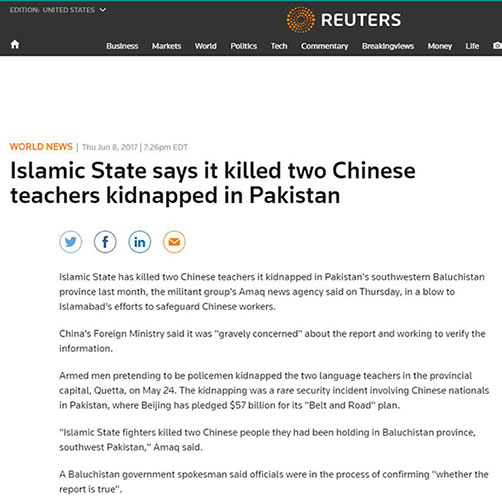 A photo grab from Reuters shows its latest report on the incident.