UK's Labour Party replaces home affairs spokeswoman day before election
LONDON - Britain's opposition Labour Party has replaced its interior affairs spokeswoman the day before a national election, citing her ill health.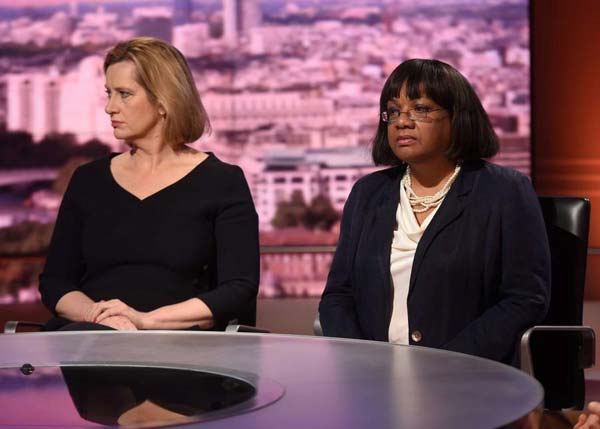 Britain's Home Secretary Amber Rudd and shadow Home Secretary Diane Abbott speak on the BBC's Marr Show in London, May 28, 2017.  [Photo/Agencies]
Diane Abbott has suffered a series of gaffes during the election campaign, and Prime Minister Theresa May's Conservatives have increasingly focused their fire on her as the campaign has become centred around security.
Abbott, a close ally of left-wing leader Jeremy Corbyn, had pulled out of a radio debate on Tuesday, saying she was unwell.
"Jeremy Corbyn, Leader of the Labour Party, has asked Lyn Brown to stand in for Diane Abbott as Shadow Home Secretary for the period of her ill health," the party said in a statement.
Brown is the party's policing spokeswoman.
Opinion polls predict the Conservatives are on course to win Thursday's vote, although their lead has narrowed significantly since the start of the campaign and some have suggested she may fail to win an overall majority.