Ethnic Chinese journalist hailed a hero after tackling terrorists in pub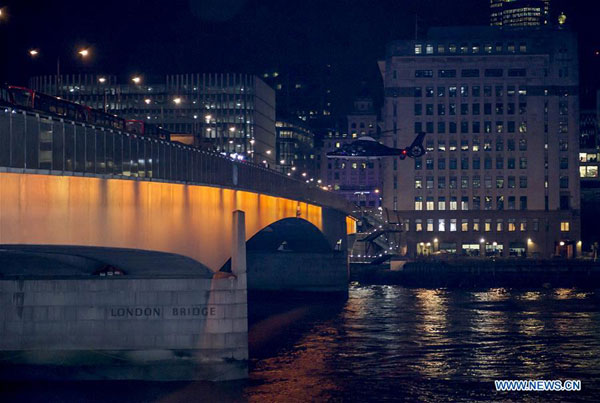 Photo taken on June 4, 2017 shows the general view of London Bridge after the terror attack in London, Britain. [Photo/Xinhua]
LONDON - An ethnic Chinese journalist is hailed a hero Monday after it was revealed he had used his martial arts skills to tackle two of the knife-wielding London terrorists, who attacked a pub doorman.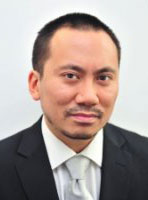 Geoff Ho [Photo from his Linkedin]
Geoff Ho, enjoying a night out at a bar, thought he was intervening in a brawl when he saw an attack taking place as they attacked pub doorman.
A video film showed him staggering away clutching his throat after he was stabbed in the neck.
Before realising he had been involved in the horrific act of terrorism around the London Bridge area, Ho said on his social media site: "Don't know whether it was stupid or noble to jump in and break up the fight outside the Southwark Tavern, but two a***s trying to do over the lone bouncer on the door isn't happening on my watch."
He was rushed to hospital by ambulance for emergency treatment, but has been left unable to speak because of his serious injuries.
Ho, who works as business editor in London's national newspapers, the Sunday Express, is now in intensive care after being stabbed.
Ho tweeted Monday: "Thank you every one for the best wishes. I got out of surgery yesterday and am on the mend."
His own newspaper reported that Ho selflessly intervened as the knife-wielding terrorists attacked a bouncer in the doorway of the Southwark Tavern, in Southwark Street.
The Express said he was later seen walking calmly towards an ambulance escorted by a police officer holding a makeshift bandage to his neck.
Reports described Ho as a martial arts expert specialising in Kung Fu and Kickboxing.
Friends of the hero had worried about his safety when Ho appeared to go missing. Later, one friend Isabelle Oderberg said on her social media site: "We have found Geoff. He is in intensive care."
Another friend Gary Robinson said: "Geoff update is that he is stable but can't talk. He is a true hero. He took on the terrorists when three rushed in stabbing people, using his martial arts, he fought them off."
"One missed him, the other stabbed him in the throat (and possibly stomach). He was hurt protecting others."
Robinson added: "He is in intensive care but 'doing well' according to the doctor. Unbelievable bravery. God speed your recovery. Geoff Ho, proud to call you my friend."
Sunday Express editor Martin Townsend said: "Geoff Ho is an absolutely first class reporter and a fine and decent man and our thoughts are with him and his family at this time. We are all hoping and praying for a speedy recovery."
Ho's office is five minutes walk from London Bridge where Saturday night's terror attack happened.
A van was deliberately driven into pedestrians on London Bridge and then three men with knives attacked people in the area of nearby Borough Market, killing seven and injuring almost 50 others, including Ho.
The three terrorists were gunned down and killed by armed cops responding to the attack.
As counter terrorism police in London continued their investigation Monday, 11 people remain under police arrest for questioning. Seven of those being held are women aged 19 to 60.