Piano project gives New Yorkers chance to play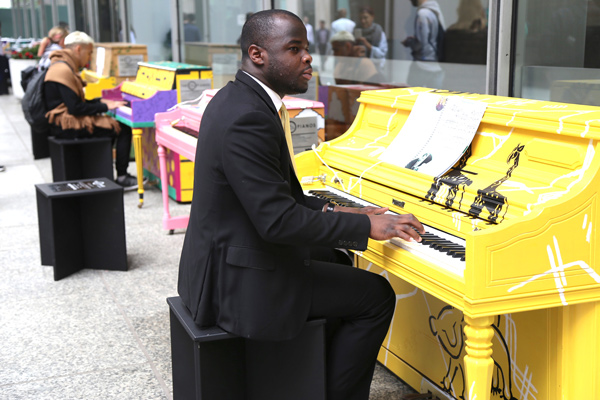 Visitors play the artist-designed Sing for Hope pianos on Monday on the plaza at 28 Liberty Street, New York. Sixty pianos will be in place in parks and public spaces across all five boroughs through June 25. PROVIDED TO CHINA DAILY
New York -- Sixty artist-designed pianos are waiting for the public to hit some high notes around New York City this summer.
On Monday, the non-profit organization Sing for Hope once again began filling New York City's parks and public spaces with pianos designed by artists such as Robert Flack, Kate McKinnon, Billy the Artist, the Broadway casts of Aladdin, Beautiful, Cats, Chicago and many more.
Jon Batiste, the bandleader for CBS' "The Late Show with Stephen Colbert", headlined Monday afternoon's performance at 28 Liberty Plaza in the unveiling event. He led 60 pianists in playing Bach's Prelude in C together.
"We love art; we love music; this is art for all,"said pianist Batiste after the performance.
Celebrating the 10th anniversary of Sing for Hope, it is also the sixth year it is billing itself as the "largest annual public art project in the US".
"We started Sing for Hope with the core belief that the arts should be accessible to all. Now, more than ever, we believe that the arts can truly transform and uplift not only individuals but entire communities,"said Sing for Hope Co-Founder Monica Yunus.
"We can't wait to not only bring these playable masterpieces to all five boroughs for three weeks this June, but to also bring our mission full circle by giving the next generation of artists the opportunity to bloom,"Yunus said.
Following the conclusion of the art installation on June 25, the pianos will be given permanent homes in New York City public schools.
This partnership with the New York City Department of Education benefits an estimated 15,000 schoolchildren.
A Chinese company offered generous help for the project.
Fosun Group has donated a full 34,000-square-foot floor at 28 Liberty, a landmarked, iconic office tower in Lower Manhattan, to serve as a communal studio for the artists designing the pianos.
"It is an honor to support Sing For Hope for a second year as it fulfills its mission to provide arts resources and programming to underserved neighborhoods in New York City,"said Wei Bo, chief executive representative of Fosun Group in the US and vice-president of Fosun Property Holdings.
"For two years, theoretically, we have donated a couple of million dollars to this project,"said Thomas Costanzo, senior vice-president and director of leasing for Fosun Property Holdings. "It's a wonderful way to give back to the community and to show our passion for the arts and music."
CHINA DAILY