UN warns 200,000 people fleeing western Mosul in Iraq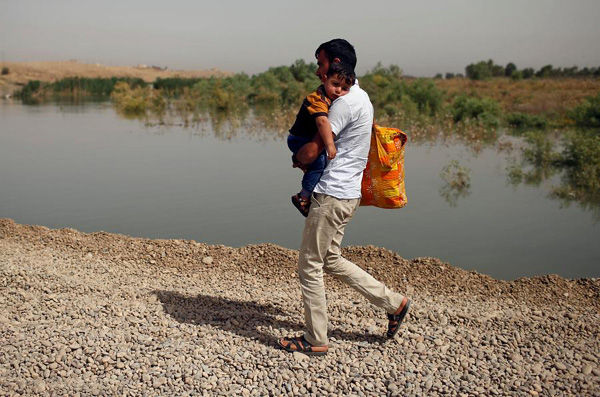 Displaced Iraqis cross the Tigris River, as Iraqi forces battle with Islamic State militants, in western Mosul, Iraq May 12, 2017. [Photo/Agencies]
UNITED NATIONS - The UN Office for the Coordination of Humanitarian Affairs (OCHA) warned on Thursday that there has been a sharp increase in the number of people fleeing western Mosul in northern Iraq as a result of intensified fighting.
"As military operations intensify and move closer to Mosul's old city area, we expect that up to 200,000 more people will flee," said Lise Grande, the Humanitarian Coordinator for Iraq.
UN Spokesperson Stephane Dujarric told a daily briefing here that the number of people fleeing homes in western Mosul are overwhelming, and large number of families are on the move, leaving everything behind.
On Thursday, Iraqi government forces freed another neighborhood in the city after heavy clashes with the Islamic State (IS) militants.
The troops are now pushing to seize the remaining neighborhoods in north and northwest of the city to tighten the noose around the IS redoubt where roughly 400,000 residents are believed to be trapped under IS rule.
Mosul, 400 km north of Iraq's capital Baghdad, has been under IS control since June 2014.