Greek parliament ratifies austerity bill ahead of Eurogroup meeting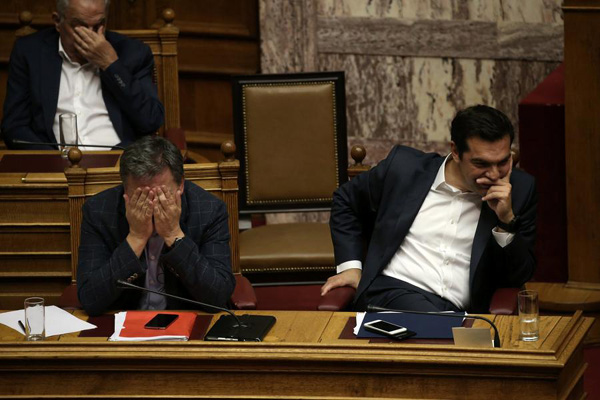 Greek Prime Minister Alexis Tsipras and Finance Minister Euclid Tsakalotos reacts during a parliamentary session before a vote on the latest round of austerity Greece has agreed with its lenders, in Athens, Greece, May 18, 2017. [Photo/Agencies]
ATHENS - Greek parliament on Thursday approved an austerity bill for new pension cuts and tax hikes through 2020, ahead of Monday's Eurogroup meeting in Brussels to continue vital loan payouts and start talks on debt relief.
The legislation, which has sparked fierce reactions by opposition parties and trade unions, passed with the 153 votes in favor of all MPs of the two-partite ruling coalition, while 128 lawmakers voted against.
A total of 281 legislators participated in the roll call vote held Thursday night and 19 were absent.
The bill introduces a fresh round of austerity measures proposed by the Greek government in a bid to close the pending bailout review and secure further aid by international lenders.
During a speech before the plenary shortly before the vote, Prime Minister Alexis Tsipras said that Greece will exit the memorandum programs in 2018.
"The review closes and after seven years we head towards a comprehensive agreement, to lead Greece out of the memorandum programs. We have finally reached a positive agenda both for the country and the society," said Tsipras.
The vote in parliament followed a long string of protests organized by umbrella trade unions of public and private sector employees, and other professionals outside the parliament building in Athens and major cities nationwide.