Hong Kong Dance Company brings Mulan to UK
The Hong Kong Dance Company is bringing its much-loved production The Legend of Mulan to the Royal Festival Hall, in London's Southbank Centre, on Saturday.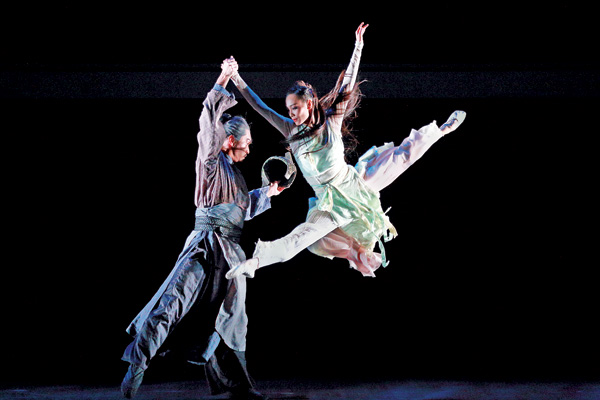 Pan Lingjuan leaps while dancing with Huang Lei.  S2 PRODUCTION/ FOR CHINA DAILY
The award-winning production that tells one of China's most popular folk tales is considered to be the company's signature production and was first staged in Hong Kong in 2013, before being toured around the world, including in venues in New York and Sydney.
The Hong Kong Dance Company's adaptation is based on the 5th century poem, The Ballad of Mulan. It tells the tale of a woman who takes her aged father's place after he is conscripted into the army before fighting for a decade and then giving up her position and retiring.
Artistic director Yang Yuntao's choreography combines traditional Chinese dance with contemporary techniques and incorporates Chinese opera, martial arts, and ballet.
Yang said: "The poem was fi lled with life and vivid metaphors, which resonate with the expressions of dance. This inspired me to explore the fine line of the two art forms, and it's particularly worthwhile as the story of Mulan exemplifies traditional Chinese culture and virtues, which suits the image of the Hong Kong Dance Company."
The dance troupe's choreographer was especially interested in exploring relationships.
"For example, the bonds that connect people to one another," he said. "The familial bond, and the decision process people go through when facing dilemmas - how they overcome tough situations as they mature. Mulan is a story of one woman's courage, and it places a strong focus on familial love."
The Legend of Mulan received two Hong Kong Dance Awards in 2014 for Outstanding Production and Outstanding Ensemble Performance.
Principal dancer Pan Lingjuan takes on the title role of China's legendary warrior woman.
"Playing Mulan is particularly difficult and different because it is not only about dancing," Pan said. "The role requires me to juggle many things that take me out of my comfort zone, which includes dancing with battle sticks. This is completely different from the training I received in traditional dance."
The Chinese dancer hopes the story will give Western audiences a fresh perspective on Chinese values and family bonds.
"The story of Mulan celebrates filial piety, which is one of the most important virtues in traditional Chinese culture," Pan said. "The story also celebrates women and their strength."