Bicester Village sells UK etiquette, then clothing
Chinese visitors with a fascination for British upper-class etiquette have moved on from coveting basic skills, such as the correct use of a knife and fork, to craving an understanding of the appropriate clothing for a specific social occasion - such as the Henley Regatta, the Glorious Goodwood race meeting, and the Last Night of the Proms.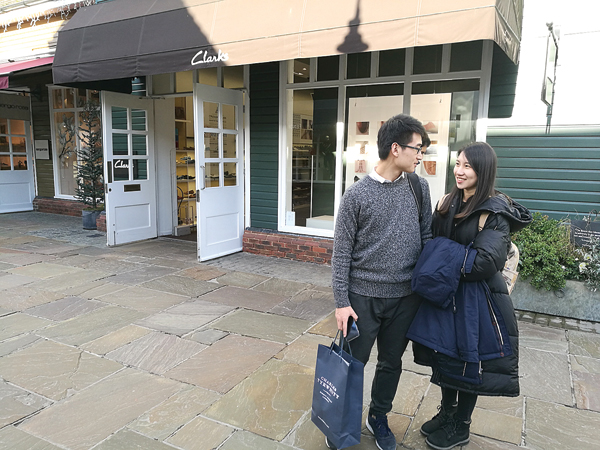 Shoppers share a moment in Bicester Village.  
Dress codes for such events are often unclear, even for modern day Britons. But the tradition of dressing properly is part of British culture, and female characters in period dramas such as Downton Abbey can be seen by their legions of fans in China changing clothes as often as four times a day.
To capture interest generated in China in rules around the dress code of the upper classes, Bicester Village, a shopping center in Oxfordshire that specializes in luxury brands and which is popular with Chinese visitors, has teamed up with London etiquette establishment Debrett's to produce a handbook on shopping for clothes, which is handed out to shoppers.
Ten thousand copies of the handbook have been printed in English, 10,000 in Chinese, and the same number in Arabic.
Bicester Village's team of Chinese personal shoppers has also been briefed on how to assist shoppers in making the right purchases for specific occasions.
"We're noticing Chinese visitors to the UK are increasingly participating in local events, such as black tie dinners and Ascot horseracing, and they are keen to understand the right dress code for our events," said Lucy Hume, associate director at Debrett's.
Debrett's, which was founded in 1769 and is an authority on British etiquette, has started providing etiquette training to Chinese clients in China.
Hume said Debrett's chose Bicester Village for the collaboration because of its global outlook, something that fits with Debrett's wish to spread British etiquette among an international audience.
Bicester Village is very popular with Chinese shoppers. From January to October 2016, the number of Chinese visitors to the shopping center grew by 9 percent. Bicester Village has around 100 Mandarin speaking shopping assistants.
The number of Chinese visitors to the UK is growing fast, especially in light of the depreciation of the pound since Britons voted to leave the European Union.
Payment provider Worldpay said in January that spending by Chinese visitors to the UK increased by 24 per cent year-on-year in comparison to the 2016 Christmas period.