Chinese star Liu Shishi helps push British brand
Manchester-based fashion label Lavish Alice is the latest Western brand to use endorsements from Chinese celebrities to try to break into the Chinese market, in this case teaming up with screen star Liu Shishi for a co-designed range of womenswear.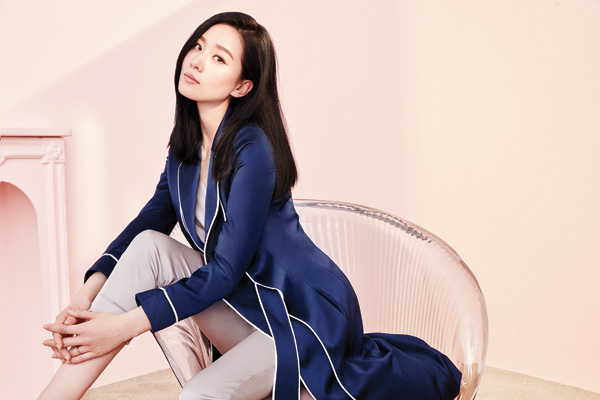 Liu Shishi models items from Lavish Alice.
The new line, called Lavish Alice x Liu Shishi, launches this week from Guangzhou, in South China's Guangdong province, where Lavish Alice has factories. Items will be exclusively available through the website of the UK designer's Chinese partner, Beijing-based online retail hub Ssrj.com.
Liu Shishi is known for her roles in Chinese series Scarlet Heart and Xuan-Yuan Sword: Scar of Sky. She has is followed by more than 30 million fans on micro-blogging site Weibo.
Ssrj.com founder Linda Dong secured the six-figure endorsement contract with Liu, who worked closely with the Lavish Alice design team on the new line.
Lavish Alice director Lee Bloor said Dong's local knowledge will be a key element in increasing the brand's popularity in China.
"It's a very specialist market," Bloor said. "There are lots of different factors to take into consideration that would hinder a launch if we were to do it independently. The Chinese frame is typically smaller, the fits and skin tones are different, and of course tastes and culture differ. Many retailers have entered the Chinese market and either pulled out or at least scaled their operations down. For us to make that leap into a specialist market, we wanted to have the expertise of someone that understands it."
Liu will become the face of Chanel in China this June.
Yang Ying, who is better known by her stage name Angelababy, the star of the 2016 blockbuster Independence Day: Resurgence, has cut lucrative deals with Dove chocolate, Coca-Cola, Coach, Gap and Samsonite as those brands try to carve out a larger presence in China.
Movie star Fan Bingbing, who has appeared in the Iron Man and X-Men franchises, is perhaps the queen of Chinese celebrity endorsement, having fronted campaigns for a multitude of foreign brands, including Louis Vuitton, L'Oreal and Moet& Chandon. A report by online marketplace Taobao estimates Fan generated $74 million in e-commerce revenue in 2013 alone.
But Dong said Liu's involvement with Lavish Alice is not a typical endorsement because it is rare for Chinese celebrities to co-design a line along with a Western brand. Bloor said Liu is well matched with the brand, which specializes in high-end and conservative clothing for women to wear at work and in the evening.
"Her design handwriting is perfect for our design DNA, we're very clean, with minimal tailoring and she's got a classic style," Bloor said.
Lavish Alice has previously worked with celebrities including Lindsay Lohan, Kendall Jenner, Jessica Biel, and Gigi Hadid. Bloor said fan response to the partnership with Liu has been the greatest so far.
"We've done lots of celebrity collaborations in the past, and she's the only celebrity that's ever crashed our website due to an influx in traffic," Bloor said. "We've never seen anything like this."