US collaboration set to thrive, says trade leader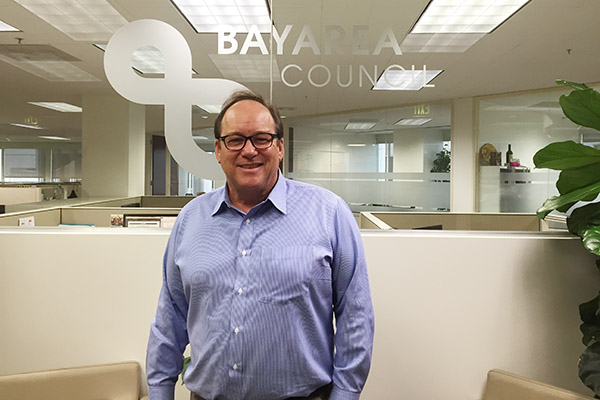 Del Christensen, chief of global business development at the Bay Area Council. [Photo/China Daily]
China and San Francisco's Bay Area should collaborate more in such fields as biotech, clean tech, Internet of Things and agriculture, says a veteran global trade enabler in the US city.
Del Christensen, chief of global business development at the Bay Area Council, also said the Chinese government and companies should focus on the quality of their innovation programs instead of quantity.
Bay Area Council has been helping US companies access the Chinese market since 2008 by opening offices and conducting research.
Christensen said China's shift from the world's biggest manufacturer to an innovation-driven economy was "the right decision".
He said he first learned about the innovation-driven economy from a Chinese delegation which visited the Bay Area to seek investment opportunities. He cited "environmental concern" as the main reason for China to adopt innovation as the foundation for developing its real economy, and ultimately speed up its transformation and upgrading.
Currently overseeing the council's trade and investment efforts in Shanghai — and directing the development of Bay Area business in China through its other two offices in Nanjing and Hangzhou — Christensen has an important role in cloud computing and cyber security.
Over the years, China has been making great efforts to enforce intellectual property protection, which has been a major concern for US companies, deterring them from conducting tech/innovation collaborations with Chinese counterparts.
"I believe things have been changed for better in recent years," Christensen said.
The council's 25 law firm members all now operate in China and say they are treated equally with native enterprises.
"From top down, from the central government down to local governing bodies, overall they are trying to create a win-win situation for tech sector and innovation (between China and the US)," he said.
Most recently, the council started bringing entrepreneurs from San Francisco's top-tier incubators and accelerators to China in order to launch two-way communications on investment and technology. Given the cutting-edge technology California boasts in areas of IoT, cloud computing of biotech components, new energy, clean tech, bio manufacturing and agriculture, Christensen said he expected China-US cooperation in innovation to experience an explosive increase.
China's Belt and Road Initiative, for example, should generate many tech collaborations between China and the US, said Christensen. "I look forward to seeing more cooperation to take place."