Pyongyang blasts US, ROK for using man's death to slander DPRK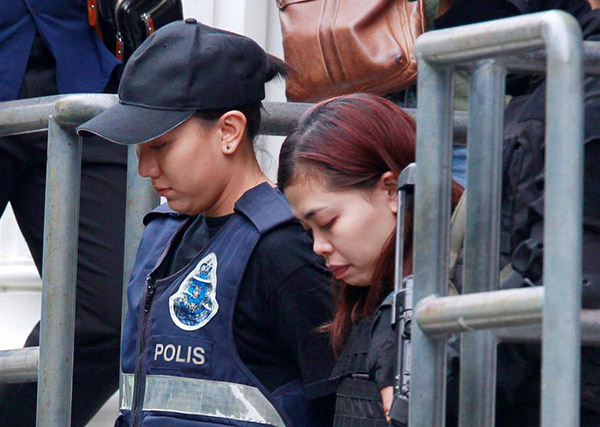 Indonesian Siti Aishah leaves a Sepang court after she was charged with the murder of a DPRK national in Malaysia March 1, 2017. [Photo/Agencies]
PYONGYANG -- The Democratic People's Republic of Korea (DPRK) on Wednesday blasted the United States and the Republic of Korea (ROK) for assertion of Pyongyang standing behind the death of a DPRK national in Malaysia last month, saying it was "groundless blame."
"The US and the South Korean authorities are kicking up an anti-DPRK smear campaign," said the state-run KCNA news agency.
A DPRK national identified as Kim Chol was attacked on Feb 13 at the Kuala Lumpur International Airport. After seeking help from the airport staff, he died en route to hospital.
Malaysian Health Minister Subramaniam Sathasivam said Sunday that the man died a painful death minutes after being swabbed with a high dosage of lethal VX nerve agent.
The KCNA, however, slammed ROK authorities for "spreading rumor" from the very beginning that the dead man was killed with poison, which it says drives a wedge between the DPRK and Malaysia.
It also accused the ROK and the United States of using the case with a political purpose to tarnish the image of the DPRK and attempting to bring down its social system.
The KCNA doubted the autopsy results released by the Malaysian side. It even warned of "stronger measures for self-defense" in order to protect the sovereignty and dignity of the country should Washington and Seoul keep using "political chicanery" to undermine the DPRK system.
Three suspects -- an Indonesian woman, a Vietnamese woman and a DPRK man -- are being held in police custody in Malaysia. Police still want to question seven others, including a second secretary of the DPRK Embassy in Malaysia. Four of the seven are believed to have fled the country.
The two female suspects in custody were charged Wednesday with the murder of the DPRK man. The death penalty will be applied if they are convicted.