Chinese company backed Oscars winner La La Land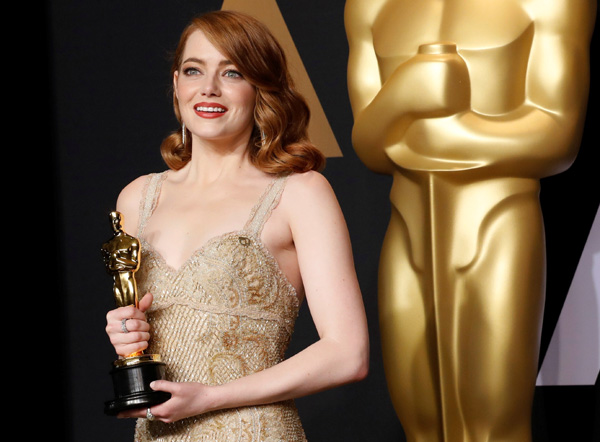 Emma Stone poses with her Oscar for Best Actress for her role in "La La Land". [Photo/Agencies]
La La Land, the musical that won six Academy Awards, received financing from Hunan TV's film subsidiary, one of three financial backers for a film that cost $30 million to make and has earned $368 million worldwide since its initial release in December.
Along with Lionsgate - which signed a $1.5 billion co-financing and co-production deal with Hunan TV in 2015 - Hunan TV & Broadcast Intermediary Co and Black Label Media financed the film, which is a relatively small budget by Hollywood's blockbuster standards.
La La Land, starring Ryan Gosling and Emma Stone about a jazz musician and an aspiring actress' romance, was nominated for 14 Oscars - including Best Actor, Best Actress, Best Director, and Best Movie - tying the record for the most nominations ever. Stone won Best Actress and 32-year-old Damien Chazelle was named Best Director, the youngest person to ever win the award. Best Picture went to Moonlight.
La La Land was released in China in time for Valentine's Day, with its domestic distributors enthusiastic that the colorful musical would do well with Chinese audiences looking for a romantic movie that had strong reviews and strong buzz for winning seven Golden Globes in January.
Since opening on Feb 15, the film has grossed $24.5 million in China, where US musicals tend to not do well.
"I think the Chinese tend to invest in films they hope will also play in China, even if they're independent films that are not part of the revenue sharing 34 films," said Stanley Rosen, politics professor at the University of Southern California.
Rosen said that La La Land was also a prestige picture because of its strong critical support and "there is some interest in being associated with such pictures as well".
"The Chinese invest in part of course to make money, but also to 'learn the business', so if their investment allows them to be involved in various aspects of the production, post-production and distribution, that will provide useful information as the Chinese industry moves forward," he said.
But Chinese investments in Hollywood might be in jeopardy because stricter government restrictions on capital outflow have potentially stalled or derailed some, including Dalian Wanda Group Co's $1 billion purchase of Dick Clark Productions and, according to The Wall Street Journal, a deal that would have given Chinese investors control of Metro-Goldwyn-Mayer Studios.
amyhe@chinadailyusa.com