Brazilian president condemns police strike for sparking chaos, violence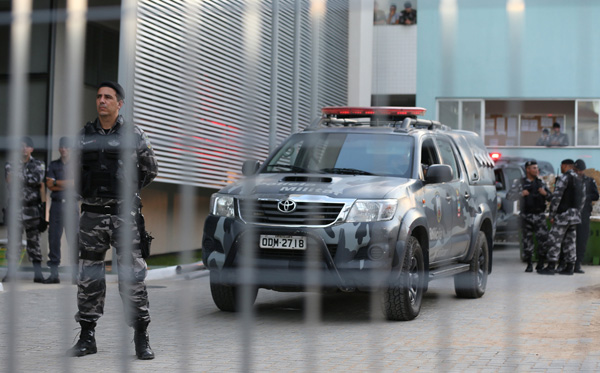 Military policemen stand inside their battalion during a police strike in Vitoria, Brazil, February 10, 2017. [Photo/Agencies]
RIO DE JANEIRO - Brazil's President Michel Temer condemned on Friday a week-long police strike in Espirito Santo state which prompted a spike in criminal activities.
It was the first time the president commented on the incident that has sparked violence and chaos.
In a statement released by the presidential office, President Temer described the strike as "illegal" and "unacceptable", accusing it of terrifying local people.
Earlier in the day, the government of Espirito Santo state said it has reached a deal with the striking police officers, who had agreed to return to work starting Saturday morning.
So far the protesters have not confirmed the deal.
Espirito Santo is one of several Brazilian states hit by a budget crisis that is crippling essential public services for millions of citizens.
The police strike over pay during the past week has left a security vacuum. Since the officers walked off their jobs last Saturday, crimes were running rampant across the state, with more than 120 homicides registered in the capital Vitoria alone, and lootings reported by over 300 businesses and shops.
According to Brazil's Globo news website, in the past seven days, the state saw more violent deaths than in the whole February of last year.
With no police patrolling the streets, Brazil's federal government deployed 1,700 military troops to keep order and was planning to raise that number to 3,000 this coming weekend.