Home / World / Asia-Pacific
US President Trump seeks to promote 'fair' trade with Japan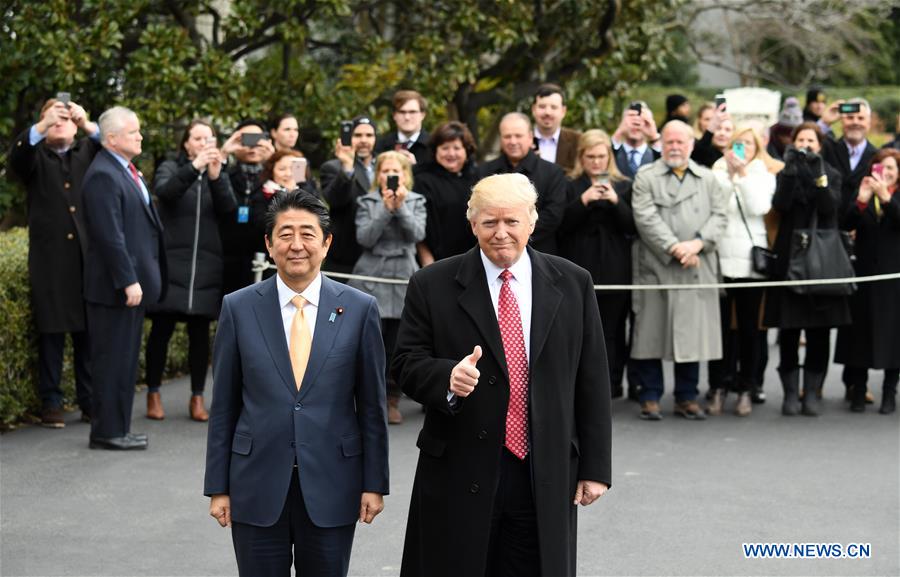 US President Donald Trump (R) and Japanese Prime Minister Shinzo Abe pose for a photograph as they walk to board Marine One departing for Andrews Air Force Base en route to West Palm Beach, Florida, after their joint press conference at the White House in Washington DC, US on Feb 10, 2017. [Photo/Xinhua]
WASHINGTON - US President Donald Trump said on Friday that his country will seek to promote a "fair and reciprocal" trade relationship with Japan.
Trump made the remarks at a press conference after talks with visiting Japanese Prime Minister Shinzo Abe at the White House.
Trump said the US will seek a trading relationship with Japan "that is free, fair and reciprocal, benefiting both of our countries."
During his presidential campaign last year, Trump had criticized Japan for its trade surplus with the United States and accused Japan of manipulating currency markets to lower its currency.
Upon taking office last month, Trump announced withdrawal from the Trans-Pacific Partnership (TPP), a sweeping trade deal between the United States and 11 other nations that included Japan.
Asked to comment on Trump's decision on the TPP, Abe said, "We are fully aware of President Trump's decision. On economic issues, we will be discussing at the working lunch to follow."
Abe said Japanese Deputy Prime Minister Taro Aso and US Vice President Mike Pence will create a new framework for economic dialogue, adding that "I am quite optimistic that the good results will be seen from the dialogue."
The US president also reaffirmed Washington's security ties with Tokyo. He said that the US is committed to the security of Japan and pledged to further strengthen the "very crucial" alliance between the two countries.
During the presidential campaign last year, Trump blasted as unfair US defense obligations with allies, including Japan, raising concerns in Japan about his foreign policy priorities in Asia.
After the news conference, Trump and Abe will have a working lunch before boarding Air Force One and traveling to Trump's Mar-a-Lago estate in Florida. They will spend Saturday playing golf together.